Find out more about the latest spraybooth technology from Junair Spraybooths
Download Brochure
How does your lighting affect your energy efficiency?
LED Lighting That Lasts
As more and more modern businesses look to streamline their processes and become more energy efficient, solutions like LED lighting have been introduced to enable businesses to be 'greener'. But, what does this mean exactly? Here is how LED lights for spray booths can help improve your energy efficiency standards.
LED lighting lasts much longer than its predecessors
Quality of light within the bodyshop and spray booth is one of the most important features to consider when choosing between suppliers. Traditional lighting was in the form of standard fluorescent light sources, these have a tendency to deteriorate in colour and brightness as the tubes age.
Using LED lights is the most efficient way of illumination and lighting, with an estimated energy efficiency of 80-90% when compared to traditional lighting and conventional light bulbs.
As more and more businesses take a longer-term view of their operating costs, a switch to lower-maintenance, longer-life LED lighting makes perfect economic sense. In fact, LED lighting is virtually maintenance free and in the vast majority of installations will operate for between ten and twenty years with no maintenance and with no compromise in the system's high lux levels, crisp, clear illumination and colour uniformity. These unique features have to make LED lighting the most efficient and cost-effective lighting solution on the market today.
Your energy bills will reduce, meaning more savings for you
Enhances your 'green' credentials
Environmentally too, LED lighting is certain to be the energy efficient lighting of choice in the years ahead. Fluorescent tubes contain lead and mercury. This presents businesses with the responsibility of ensuring that old tubes are disposed of safely and in a controlled way. As the shift towards 'greener' lighting solutions gathers pace across the UK industry, it is widely expected that fluorescent tubes will become increasingly expensive and, if they follow the route that the traditional bulbs have gone, they will be increasingly difficult to source.
Innovations in Bodyshop Lighting - Sirius LED
Junair has been at the forefront of lighting improvements to spraybooths for a number of years and now we have the latest innovation for lighting for use in bodyshops.
For the last two years Junair has been developing SiriusLED, a premium, linear lighting solution offering perfect task lighting.
With a broad angle of view, SiriusLED provides consistent light coverage over large areas and with a colour temperature equivalent to daylight, you're adding great physical and mental health benefits to your employees as well.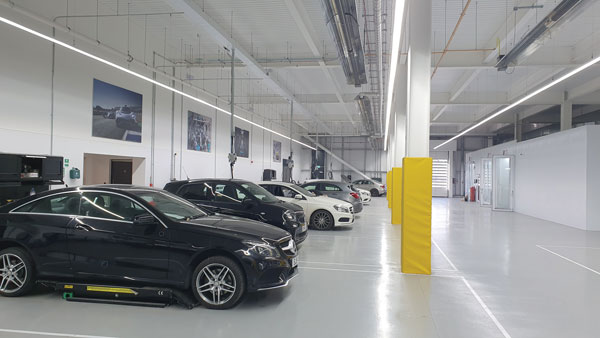 Key Features of SiriusLED
Consistent light coverage
Daylight equivalent light levels (5700K)
Uses 17% less energy than typical LED lights
Fitted with the latest high performance Samsung LED
Offering up to 100,000 hours flicker free
Tridonic optics to prevent discolouration
5 year product warranty
Fast and simple installation
Innovations in Spray Booth Lighting
Junair UltraLux LED lighting has been developed specifically for use in bodyshops and Spraybooths. Providing excellent colour rendition and uniform lighting across the working area. Junair LEDs can save up to 60& in operating costs when compared to the like for like LUX levels in traditional bodyshop lighting. Lighting is accessible from inside the Spraybooths for ease of maintenance.
Junair Halo LED lighting incorporates 360 degrees of UltraLux LED light fittings, offering full coverage over the entire cabin and minimising shadow areas. This is a first for the industry and overcomes the common problems of dark spots at the ends of the booth.
For more help with choosing the right lighting for your spray booth, take a look at our article below.
Contact Junair Spraybooths
Follow the buttons below to contact Junair Spraybooths, by either calling us, filling out a form or requesting a call back.
Alternatively, send us an email at sales@junair.co.uk