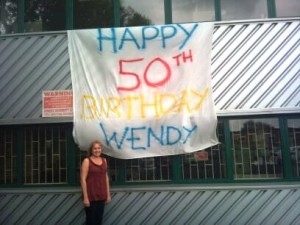 Junair Spraybooths Customer Services Manager Wendy was in for a surprise when she arrived at work on her birthday- she was met by a 10 foot square banner hanging from the outside of the building wishing her Happy Birthday! The banner had been sprayed in the on site spray booth by members of staff at Junair's training facility and proclaimed to all the visitors that it was Wendy's 50th Birthday- Wendy loved the banner but strongly denies she is 50, insisting she is  a mere 21 again!
If you would like to find out about any of the spraybooth equipment and services available at Junair, please contact us online.
Choose Junair for cutting edge spray booths.