Junair are proud that one of their apprentices has shown the skill and commitment required to be entered into the Weld Cup hosted by Rochdale Training. The Weld Cup will take place on the 17th May and will test the skills and expertise of the apprentices, in a bid to encourage our future engineers. The competition will be judged by an experienced panel of experts, who will award prizes for first, second and third place.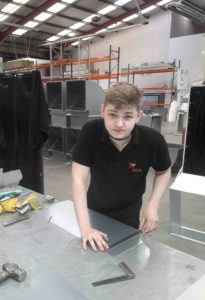 Ryan is the latest apprentice success story at Junair Spraybooths
Ryan Lambert is entered into the level 2 Weld Cup and will be competing against his peers for the title. Ryan has been an apprentice at Junair Spraybooths since 2016 and has been receiving on the job training as well as studying at college on day release. Modules he has studied include Health and Safety, Sheet metal and Welding. On completion of his courses he will not only have a good grounding in sheet metal fabrication but will also gain an NVQ nationally recognised qualification.
Junair has actively taken part in recruiting via apprenticeship schemes for over 18 years, with some longstanding employees being recruited this way. Carl Edwards originally came to Junair via an apprenticeship scheme 18 years ago as a sheet metal apprentice and has since prospered with Junair to become a much valued member of the sheet metal fabrication team. Matt Scott came to Junair as an apprentice in 2012 and having completed his NVQ has gone on to become an esteemed member of the controls team, now training his own apprentices.
Our Production Managers comments
Apprenticeship schemes have proven to be a very reliable approach to recruiting long term committed employees and are a great opportunity to get out in the real world and get a head start on your career. The Junair spraybooths apprenticeship scheme offers a fantastic opportunity to gain practical and professional skills as well as on the job training whilst studying for a nationally recognised qualification.
Jamie Duffy, Production Manager commented "I'm so proud that one of our apprentices has been selected to compete. We pride ourselves on the ongoing training of our staff here at Junair and already have several apprentice success stories. Hopefully there'll be many more to come. Good Luck Ryan."
Get in touch with Junair Spraybooths today
Choose Junair as the UK's leading paint spray booth supplier.
For further information on our range of spraybooths and ancillary products call our experienced team on 01706 363 555 or contact us online.