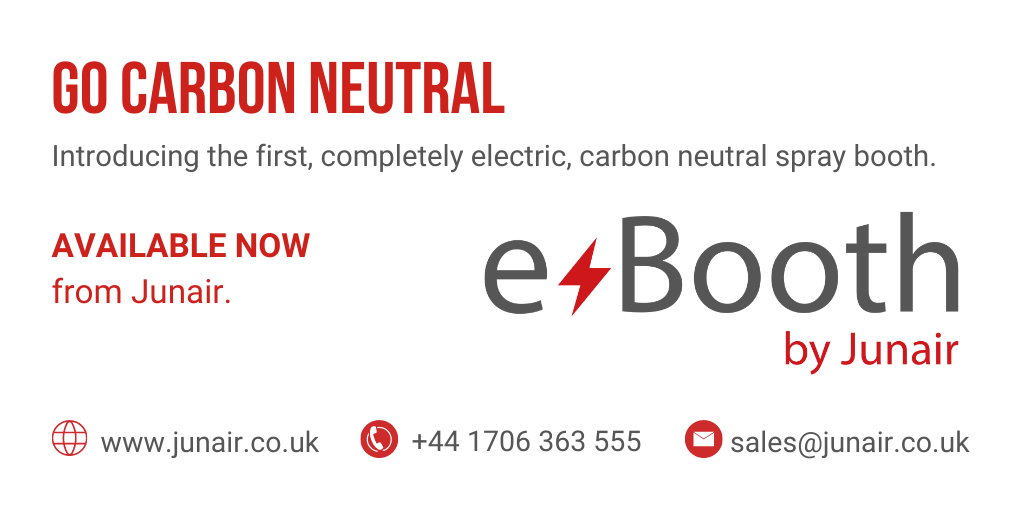 Monday 13th September 2021, Heywood, Lancashire
Junair has always been the leading spray booth company when it comes to energy reduction, ultimately saving carbon emissions since 2002. It has won awards for both Junair EcoActive and the Junair 4 Series for energy reduction performance.
As part of Junair's long term commitment to the removal of carbon emissions from our product range, Junair are proud to launch their latest innovation – the eBooth – a fully electric spray booth which offers customers a carbon net zero choice.
The Junair eBooth can run on renewable energy sources, which means zero carbon emissions, but also incorporates Junair's award winning energy saving features as standard, such as QADS, iSystem, FS Mode and Variable Speed Drives.
Another key focus for the development of the eBooth was to ensure that operators couldn't tell the difference from a regular spray booth and that functionality remained the same. From the painters point of view, their work does not change, there is no need to learn anything new.
Jason Douglas, Commercial Director, "with the eBooth, operators can use the equipment without relearning, work in exactly the same way, but they can do it environmentally guilt free. We did not want to approach this key demand with a gimmick, just something where the technicians can get on with the job"
In addition to the energy saving features of the new eBooth, Junair's typical product lifespan is so great that, not only does it set them apart from their competitors, but it also contributes to the overall reduction in carbon used during manufacturing. A double benefit.
Angus Trenholme, Technical Director at Junair said; "this is a real first for our industry and we are extremely proud to be able to offer this to our clients.
Junair have received their PAS 2060 certification this year and an electric spray booth is the obvious way to approach the needs for business to reach their net zero goals ."
Junair's eBooth is available to customers now and being rolled out to major bodyshop groups within the UK. For further information about the eBooth or any of Junair's products, please speak to a member of our team on 01706 363555.