It comes as no surprise that leading spray booth manufacturer, Junair Spraybooths, are suppliers of  Bodyshop equipment to the majority of the winners at this years Bodyshop Awards Event.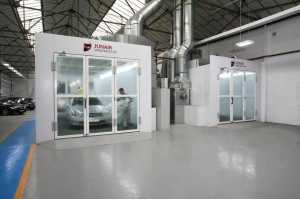 Grahame Kitchin, Junair's Sales and Marketing Director, was at the Event and said ' It is a privilege to be associated with so many of the industries market leaders. Junair are a long established company and are committed to building affordable, high quality, technically advanced refinishing equipment, whether it is to provide a new bespoke bodyshop or retro-fitting energy efficiency solutions to existing equipment of any make, we are always dedicated to ensuring the best results for our customers. Well done to the winners!'
Browse the range of Spray booth equipment solutions available from Junair.