Junair Spraybooth's innovative LEVAC floor has become the most popular extraction system, overtaking the conventional pit extraction. This innovative new spray booth features a fully gridded, fully extracted floor removing the need for excavation as with a standard pit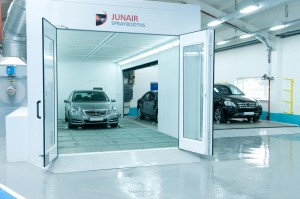 .. That means a new booth can be up and running in double-quick time. AND no hole in the floor means no hole in your budget. You can save thousands of pounds on installation.
Cuts out the dirt and disruption of excavation
Save up to £5,000 on installation*
Ready for use in less than half the time*
Your new booth will be easier to relocate if required
Assured build quality from Junair
* compared with a conventional spray booth
Find out about more of the cost effective and time efficient features of Junair automotive spraybooths.