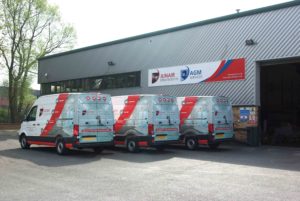 Junair Spraybooths regularly update their fleet of vans and this time decided to give the livery a complete refresh as well.
The first 3 vans in the fleet have already been delivered to our 40,000 sq ft factory in Heywood, just North of Manchester.
Newcastle Accident Repair's Newly Installed Spraybooths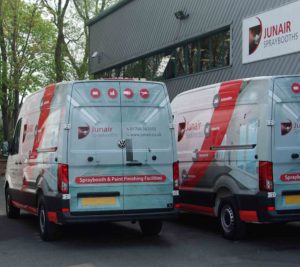 The spray booth pictured on the rear of the van is a 9 meter long 3 Series spray booth, with Ultralux LED lighting, now as standard. The extract filter underneath the floor grids is the new PolyMat Ex filter, a single ply filter that lasts over 60% longer than standard duplex extract filters and removes particles down to 3.5 which is significantly less than standard duplex extract filters.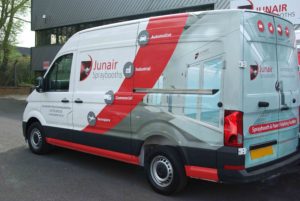 The bodyshop pictured on the sides of the van show a common paint shop layout – a central paint mixing room servicing two spray booths. The low profile of the LEVAC floor is clearly visible; the LEVAC floor means that floors do not need to be excavated in order to install full down draught spray booths. A small ramp of just 140mm in height, allows easy access to the spraybooth.
With thanks to the team at Newcastle Accident Repair for letting us take photographs of their newly installed spraybooths.
For more information about Junair Spraybooths contact the team on 01706 363 555 or email sales@junair.co.uk