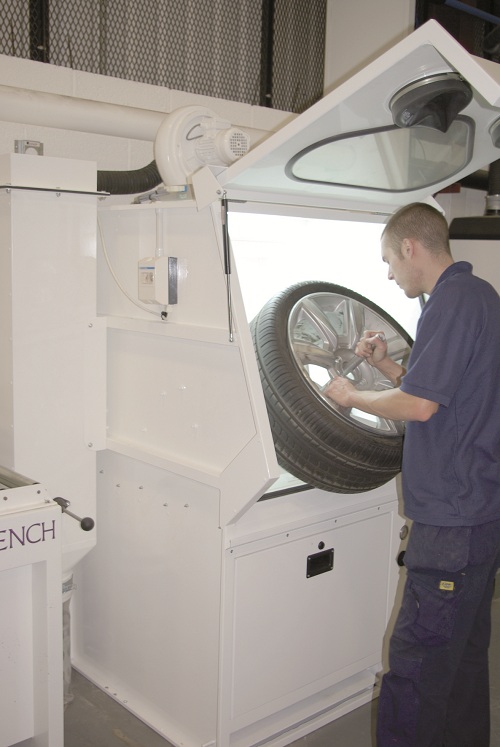 In the wheel refurbishment sector of the smart repair business, speed is of the essence. The faster you can complete one job, the sooner you can move onto the next and maximise revenue. The WheelBlast unit is just one of a range of alloy wheel preparation, repair and painting solutions designed by Junair Spraybooths to greatly reduce process times without compromising quality.
Prep Alloy Wheels with Junair Wheel Blast Equipment
Wheel Blast equipment quickly and effectively prepares alloy wheels for painting. The unit, which is compact and fully self-contained, completes the preparation process in minutes, removing paint and rust to provide the best possible surface for painting. The turntable provides the ideal component position ensuring a complete and even treatment. Wheel Blast equipment is safe and easy to use. Wheel loading for example is a simple task thanks to the loading trolley that rolls forward for quick, easy placement. Superb illumination within the unit ensures enhanced visibility through the viewing window.
Complete with a highly efficient dust capture ventilation system, the WheelBlast unit allows all work to be carried out in full compliance with HSE regulations.
Other innovative, energy-saving wheel refurbishment and painting solutions from Junair include powder coating equipment, WheelWasher, WheelBake, WheelRack, WheelSmart, preparation and loading benches, tyre changers and WheelCabin, a compact booth ideal for wheel repairs, off car panels and bumpers.
Our friendly staff are here to help
If you are interested in any of Junair's innovative wheel booth refurbishment equipment or other products from our extensive smart and cosmetic repair range, browse our site for more information or, better still, talk to a member of our friendly and knowledgeable team on +44 (0) 1706 363555.