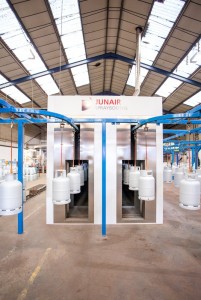 For many organisations productivity is a key driver in increasing revenue and ultimately profit.  Junair understand that when planning and designing either a new manufacturing facility or looking to change an existing facility, the positioning of machinery and optimising the production process is critical both to ensure floor space is not wasted and potential bottlenecks are removed.  Over time production lines have advanced to become more sophisticated allowing organisations to increase their operational productivity and maximising available floor space.  Junair have specialist knowledge and experience of overhead conveyor systems to assist clients with these decisions.
In the planning of your facility, careful consideration also needs to be taken for personnel safety and risks of accidents that may occur due to congested workspace.  All of Junair's equipment is designed and manufactured to adhere to health and safety legislation, and ensures that anyone using the equipment can do so confidently, conveniently and without risk.
Maximise Your production Space with Junair's Overhead Conveyor Systems
Material handling within paint facilities is too often overlooked and time and resource is wasted, however with Junair's overhead conveyor systems you can optimise the process with the available resource, minimise labour input and increase productivity.  Overhead conveyor systems can be manual, powered or more sophisticated power and free type; in all cases your overhead conveyor systems will improve the production flow by providing flexible handling and delivery of products, allow extra room for personnel and increase manoeuvrability of your products on the production line.
Here at Junair our team of experts within the industrial market manage each project uniquely.  We make certain that all customer requirements are met and the new equipment will provide added value to our customers.
Junair also offer market leading spray booths, cure ovens, pre-treatment systems and dry off ovens within the industrial market.  As well as offering equipment to the industrial market Junair also serve the automotive and commercial markets with a range of spray booths and smart repair equipment.
Contacting Junair Spraybooths
If you require further information and would like to speak to a member of the Junair Spraybooths team you can contact us on 44(0)1706 363555. Alternatively, you can email Sales@Junair.co.uk.
Alternatively you can view the full range of spraybooth equipment and accessories and services that Junair Spraybooths offer by visiting our home page.