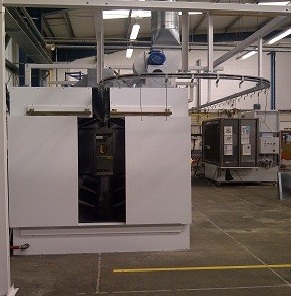 Energy efficiency is a term that seems to come up more and more lately. With rising costs of energy it is no wonder why.  Junair spray booths are at the cutting edge of innovation and energy efficiency where anything spray booth related is concerned.  Junair also look at overall process efficiency, and with Junair's overhead conveyor systems installed you will see exactly why Junair's spray booth solutions are second to none.
See Obvious Savings with Overhead Conveyor Systems from Junair
Junair manufacture and install overhead conveyor systems to suit simple requirements all the way through to complex power and free applications.  We also specialise in floor conveyer applications. With any of our conveyor systems you can be confident of a reliable system and you will see obvious savings in your process.  The savings will be due to reduced labour costs, reduced process times and improved process capacity.   The reliable nature of our conveyor systems means that maintenance costs will be lowered.
Floor space is invaluable and something that can be in short supply. Overhead conveyor systems free up floor space and take advantage of often unutilized overhead space.  Another advantage of overhead conveyors is that they optimise productivity and allow for flexible handling.  Many organisations have realised the benefits of installing overhead conveyors systems and by choosing Junair not only will you be provided with a top quality design to suit your needs but you will also be provided with the support of one of our skilled engineers.
For further saving and productivity, Junair offer market leading industrial spray finishing equipment including spraybooths, cure ovens, pre-treatment systems and dry off ovens.   All of our equipment including our smart repair equipment, is designed to provide the lowest operating costs with the lowest process times for maximum savings.
Find Out More
Junair concern themselves with efficiency and productivity and so offer a range of equipment that is in accordance with these ideals. If you would like to find out more you can visit Junair Spraybooths on our website or you can contact us on +44(0) 1706 36355.