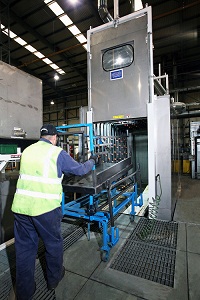 Throughout the industry every production and manufacturing process in different in some way, this is why at Junair, we work closely with our customers to ensure that the systems and equipment we offer are manufactured to the individual needs of our customers.
We lean on our extensive experience and expertise to offer guidance and recommendations when planning either a new pre-treatment plant or looking at refurbishing an existing plant. In the design and planning of your facility, careful consideration is taken to ensure all your requirements are met and that the proposed design is maximising your facilities resources.
Energy Efficient Pre-Treatment Plant Equipment
With ever increasing operating costs due mainly to the rise in energy prices many organisations are leaning towards energy efficient equipment. We invest heavily in training and development to ensure our technology and paint finishing equipment is the most productive and energy efficient on the market.
Owing to this commitment to constantly develop our technology, this allows us to offer a range of pre-treatment plant equipment which is designed and manufactured to exceed your expectations. Our pre-treatment plant equipment includes:
Spray immersion
On-Line spray
Dip immersion
Static spray with multi-stage treatment in a singular spray chamber
De-rust systems
Passive additions
Detergent wash for cleaning and degreasing
Plastics wash for cleaning, degreasing and adhesion promotion
Acidic etch and chrome free conversion coatings for aluminium systems
Phosphate system – either conventional iron phosphate or zirconium phosphate
For over 20 years, Junair Spraybooths have been leading the way in innovative paint finishing and spray booth equipment and design and have been pioneering the industry's most advanced technologies in the automotive, industrial, aerospace and commercial sectors.
Contact our friendly team
Junair offer a free of change site survey where we will highlight potential energy savings that can be achieved. To find out more information or request a free no obligation site survey please contact a member of our friendly team on 01706 363555. Alternatively you can email sales@junair.co.uk