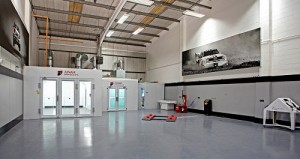 Our range of SMART Repair Equipment has been developed to offer the motor industry a fast, cost-effective yet environmentally friendly solution to assist in the cosmetic repair of used vehicles. In the past many small cosmetic repairs have been carried out in a traditional spray booths, taking up valuable production time.
Over recent years Junair has seen an increase in customers installing smart repair equipment. This equipment allows bodyshops to carry out small cosmetic repairs where space is at a premium. All the equipment featured in our smart repair equipment range is designed to be compact ensuring that floor space is used in the best possible way. Because this equipment is compact, this makes carrying out small repairs much more convenient and limits the need to reposition the vehicle to reach the target areas. Due the advances in our technology bodyshops can still carry our repairs to the same high standards as a traditional spray booth.
Energy Efficient SMART Repair Equipment
Saving on costs has always been of paramount importance, many argue that now more than ever is the time to start being energy smart. Energy prices are on the increase and are only set to get higher and businesses nationwide are starting to feel the crunch. In the interest of uninterrupted productivity we must take measures to ensure equipment is energy efficient without compromising on the quality of work. Here at Junair we continue to develop new technology aimed at increasing your productivity and efficiency of your bodyshop, and offering the very best in quality and customer service, all at competitive prices.
Part of Junair's smart repair equipment range is our selection of wheel repair equipment which is also ideal for space saving and energy efficiency when carrying out wheel refurbishment and repairs.
For More Information Contact a Member of our Friendly Team
If you are interested in any of Junair's smart repair equipment please contact a member of our team on 01706 36358 or alternatively email sales@junair.co.uk and a member of the team will contact you.
Go online to find out why Junair is the UK's leading paint spray booth supplier.