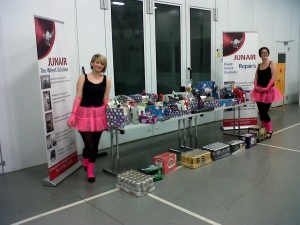 Each year at Christmas Junair Spraybooths receive gifts from their suppliers to thank them for their business. Twelve years ago the staff at Junair decided that instead of dividing the gifts out they would like to put them to good use. After putting their heads together it was decided that the gifts would be raffled off on the last trading day of the year and each year the proceeds would be donated to a local charity.
Junair & AGM Come Together
Junair"s Sales Office Manager, Elaine Butler volunteered to organise the event and to add to the fun Elaine and Fiona Bradshaw of Agm Services staff dress up in fancy dress to sell the tickets. To boost the prizes Junair, Agm Services and Workshop Solutions Directors also donate generous gifts. Prizes this year ranged from superb hampers of Champagne, chocolates, christmas cakes and puddings, an IPod docking station and bottles of whiskey, wine and tins and boxes of sweets. In addition each year Marie Edwards, AGM Services Business Operations Manager, arranges a collection from staff who prefer to make monetary donations rather than sending Christmas Cards between each other. The total funds raised from the two ventures this year were £500   and are being donated to Springhill Hospice in Rochdale.