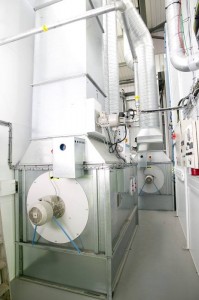 If you run a business that uses spray booths, then you don't need anyone to tell you how expensive they are to run, and with energy prices rising all the time, those costs just keep increasing and eating into your profits. Yet for many businesses, the idea of investing in new equipment seems like another expense that will hit profits even harder. But it doesn't have to be that way.
Cutting Edge Spray Booths
Junair spray booths incorporate the very latest energy efficient technology that will start to save you money from day one, so your investment will pay for itself in no time. And once it has, it will continue to save you money every year for years to come. You don't even have to invest in whole new spray booths to enjoy the benefits, as many of Junair's patented innovations can be retro fitted to your existing equipment.
Take Harlequin Motors for example. They retro fitted Junair technology at their plant and were amazed at the savings that the new technology delivered. Thanks to Junair's energy efficient air handling equipment, combined with our award winning QADs, Harlequin saved over £15,000 in the first year – a year when their energy bills should have been rising.
Studies show that combining Junair QADs and variable speed drives, in conjunction with our patented fuel saver mode, can save up to 70% on the cost of running your spray booths, with fuel saver mode alone saving over 20%. What's more, our technology will improve performance and boost productivity too, making even greater savings for your company.
So if your business uses spray booths, the question is not whether you can afford to talk to Junair about new equipment, but rather whether you can afford not to.
Alternatively you can view the full range of spraybooth equipment and accessories and services that Junair Spraybooths offer by visiting our home page.