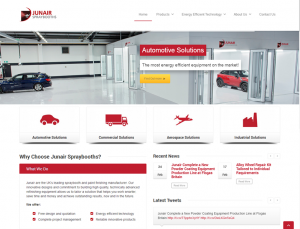 The team at Junair Spraybooths are delighted to share with you our newly redesigned website.
This new redesign and restructure has two main goals. Firstly to align the website with the new Junair Spraybooths branding, secondly, to clearly demonstrate Junair's vast array of products, services and capabilities in an easy to understand and navigate website.
Improving Navigation and User Experience
This new website provides our users an improved user experience through a new streamlined navigation, users now have quick access to all our products and services on every page throughout the site. We have also added a new left hand navigation at product level again to give users quick and easy access to all the products and services related to the industry they are browsing.
Whilst revamping the website we also took the opportunity to expand and update and expand our image galleries. We are extremely proud of our products and services and felt there was no better platform to showcase them for all our users to see than the website.
Showcasing State of the Art Spray Booth Technology, Products and Services
This new website now provides a professional interface for our users to interact and we are extremely pleased with the outcome. The redesign of the new website has been carried out with the end user experience in mind. As market leaders in the spray booth technology industry, our products and services deserved a website that appropriately showcased our abilities.
We have built our reputation over 25 years and in that time we have gained a wealth of experience and respect within the industry. We provide a friendly and consultative approach and take the time to fully understand our customers' requirements and the project at hand. It is this dedication that ensures we maintain our reputation as the spray booth technology specialists. Our comprehensive service is of an extremely high standard, it was imperative that this message was portrayed throughout the whole website.
Contact the Junair Spraybooths Team
We are sure you will find the new Junair website easy to navigate and very informative but if you require any further information regarding any of our spray booth technology, services or products you can give the team a call on +44(0)1706 363 555. A professional and helpful member of the Junair Spraybooths team will be more than happy to provide any additional information you require and to discuss your needs.
Learn more about the nation's premier supplier of paint spray booths for all industries.