A car spray  booth oven can be specified with the following airflow characteristics;
Cross draft – wall input and wall extraction
Semi down draught – roof input and rear wall or side wall extraction
Down draught – roof input and under floor extraction either by pit such as Junair EVAC floor or raised base LEVAC type floor.
The spraybooth airflow will vary dependant on the product to be painted and the budget available. For car refinishing for example the best airflow is down draught because the mist clearance is excellent and it delivers the fastest curing time, however budget constraints may mean that an end extract spray booth meets a clients needs both operationally and financially.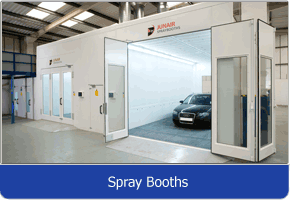 Take a look at the range of spray booth equipment manufactured by Junair.