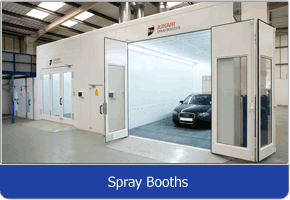 When choosing a spray  booth oven you should make sure that the equipment can meet your needs now and in the future. A spray   booth oven is a production tool and the cost of ownership goes way past the headline price of purchase. A cheap  spray booth that is unreliable in operation will end up costing significantly more than a better quality booth that is reliable and durable in use.
The basic items to review are;
Performance
How many jobs per day can the booth cope with, does it have rapid temperature rise, how good is the mist clearance, what curing time can be expected, is the lighting good.
Energy efficiency
How much will the booth cost to operate, does it have energy saving features.
Quality
How good is the engineering, will the equipment be reliable, how long will main components last.
After sales support
Where is the nearest engineer if we have a problem, are spare parts readily available, are service and maintenance costs reasonable, who do we talk to if we have a problem.
Price;- the last item to consider is the price. It needs to fit your budget but always look at the cost of ownership as well as the ticket price.
Learn more about Junair spray booths for sale.
Visit us online to learn more about our industrial, automotive and aerospace spray booth equipment.
Alternatively you can view the full range of spraybooth equipment and accessories and services that Junair Spraybooths offer by visiting our home page.