Find out more about the latest spraybooth technology from Junair Spraybooths
Download Brochure
Junair Automated Sludge Removal Systems
This automated sludge removal system is designed to work in conjunction with our high efficiency waterwash spray booths.
The sludge removal system consists of a water treatment tank which is remote from the spraybooth. The system takes paint laden water to the sludge removal tank where a chemical interaction promotes paint material to float to the surface. It is then automatically scraped off to a special sludge holding receptacle for further dewatering, resulting in paint sludge waste with minimal water content. Clean, treated water returns to the spraybooth improving cleanliness and efficiency. The sludge removal system works with both solvent and water-based coatings and can be retrofitted to existing spraybooth systems. The system is fully automated, manufactured from stainless steel and allows continuous cleaning and recycling of the booth water.
Junair sludge removal systems have the following benefits:
Unique design to prevent paint drop-out within the sludge tank, providing continuous regeneration of any settlement, with periodic back flushing
The system does not have any settlement within the tank meaning minimal maintenance
Local PLC control of the pneumatic scraper allows the skimming frequency to be tailored to customer needs
Small footprint
Reduced water volume in system
High quality stainless steel construction
Can be close coupled to the spray booth or remotely mounted up to 50m from the spraybooth, meaning the 'dirty' sludge removal activity is remote from the 'clean' spraybooth operations.
Junair Sludge Removal System Schematic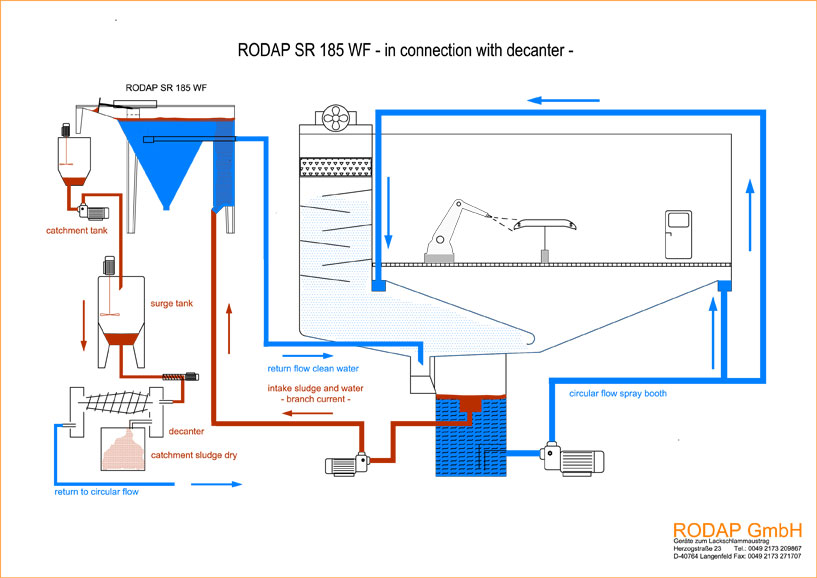 Get in Touch to Discuss Sludge Removal Systems from Junair Spraybooths
Junair have been supplying spraybooth solutions and industrial spray booth equipment for many years. Ranging from small process lines to fully automated mass production paint finishing lines, all our industrial spraybooths and paint finishing equipment is purpose built to suit our customers' requirements. From simple preparation rooms to more complex conveyorised paint finishing lines, Junair will provide you with a high quality tailored solution.
For more information on our award winning spray booth products and equipment please call our sales team on 01706 363 555, email us your enquiry at sales@junair.co.uk, or click here to complete our contact form.
Don't forget to view the full range of Junair Spraybooths industrial spray booth equipment .