Automotive Spray Booth Equipment
As a trusted supplier of spray booth ovens and ancillary equipment, Junair Spraybooths are a leading supplier of a comprehensive range of high quality bodyshop solutions.
Our market-leading automotive spray booths help drive unrivalled performance and productivity of your bodyshop, whilst further improving the versatility and quality of your vehicle. Furthermore, we take into account air flow, space and budget, offering you a wide variety of options designed to improve your paint facility efficiency, throughput and quality.
Find Out More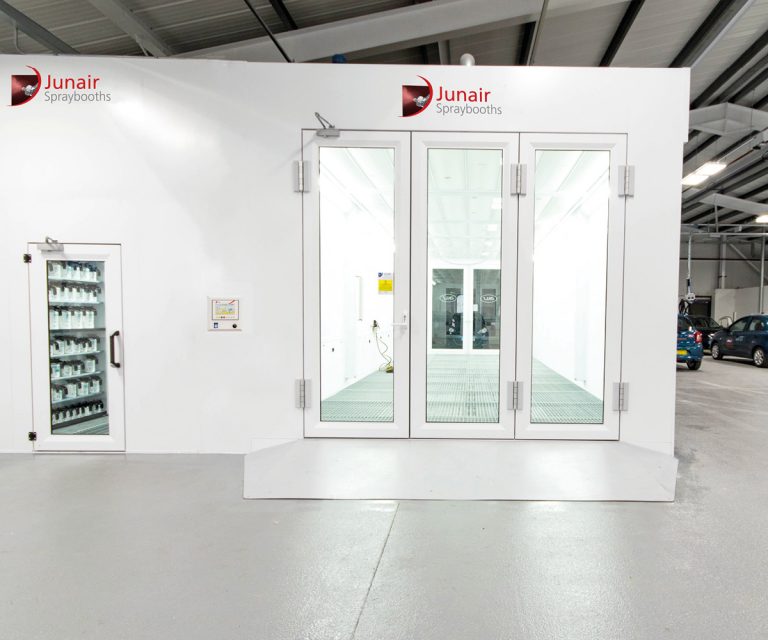 Industrial Spray Booth Equipment
From simple preparation rooms to fully automated mass production robotic paint finishing lines, our range of industrial paint finishing equipment is designed to perform and built to last.
Supplied to a wide range of clients, we create purpose built, tailored solutions to meet the customer's specific requirements, analysing their process requirements, paint technology, environmental considerations, workspace and more. From this, we can provide flexible and innovative industrial spray booth equipment, ensuring they benefit from a variety of industrial applications.
Find Out More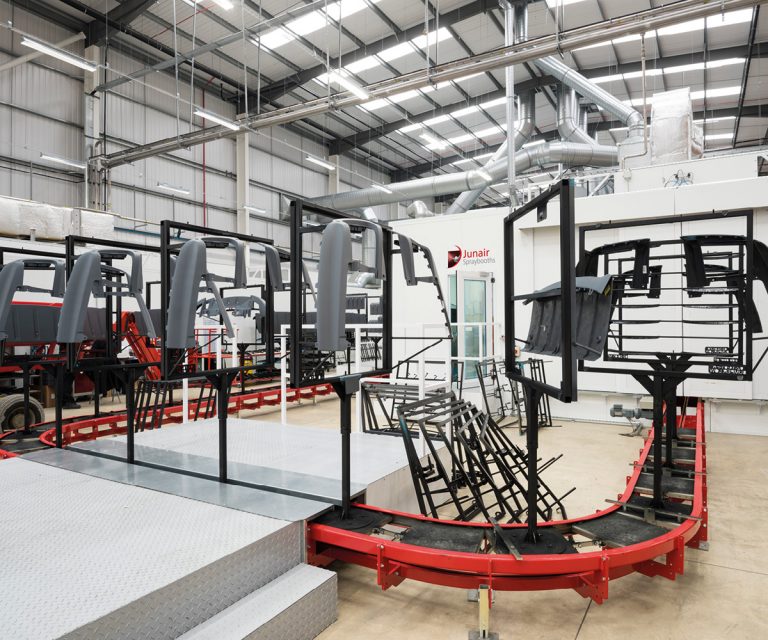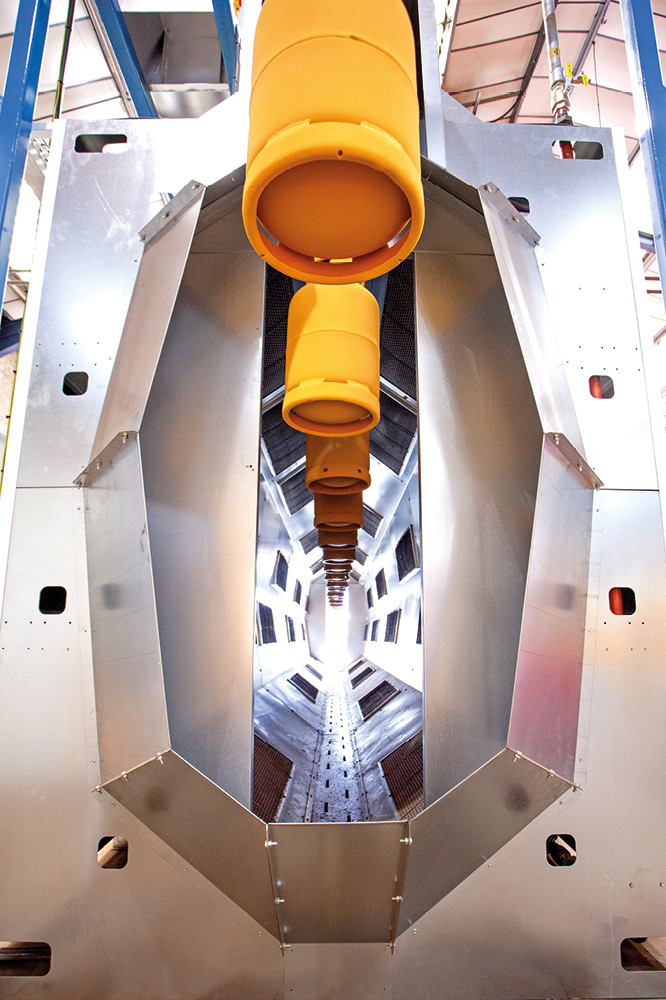 Commercial Spray Booth Equipment
Junair Spraybooths commercial spray booth equipment provides the perfect commercial vehicle refinishing environment. From spray booths for containers, through to drive through booths to accommodate trains, we operate a flexible design approach to offer a bespoke solution for your commercial industry.
Our process-driven spray booth solutions guarantee durability, significantly increasing the production and advanced manufacturing processes.
Find Out More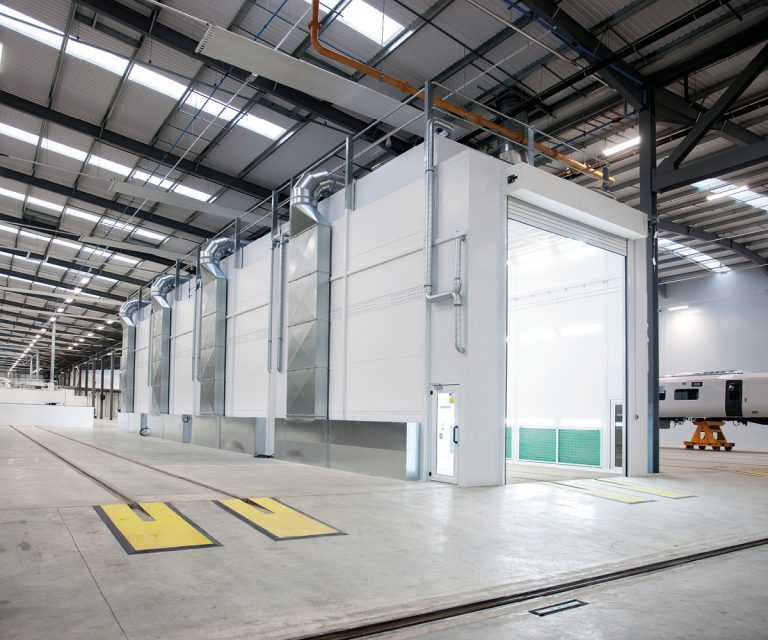 Aerospace Spray Booth Equipment
Our aerospace spray booth ovens are highly specified, with every feature engineered to perform at optimum capacity. Supplied with the required air quality, the aerospace range at Junair Spraybooths comes complete with fully modulating heating humidification, as well as chilling or filtration functions - all catered to the client's requirements.
From compact spray booths for coating the smallest of component parts, to a spray booth oven large enough to hold an entire aircraft, Junair Spraybooths support the manufacture and refurbishment of aircraft and aircraft components whilst fully complying with NADCAP standards.
Find Out More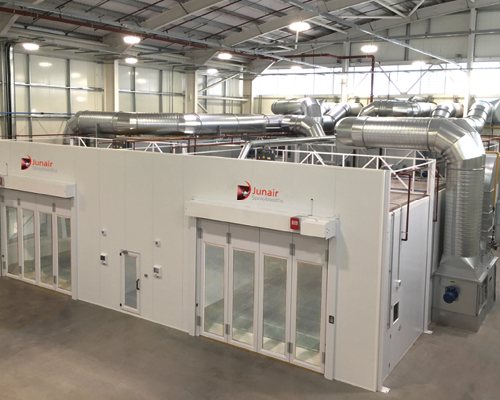 Junair Spray Booth Solutions
Junair provides spray booth and paint finishing solutions that work for your business, no matter which industry you belong to. From automotive accident repair spray booths to fully automated mass production paint finishing lines, all of our spray booths are purpose built to suit customers' requirements.
Enquire now and receive specialist support from Junair
Email Us
Our Approach
Junair Spraybooths always have a friendly consultative approach, from initial design and layout through to maintaining equipment. Our team take every bespoke project and manage the whole installation process from start to finish, whether it is a single spraybooth or a complete bodyshop transformation. The specialist contracts team ensure each project is completed to a high standard, on time, within budget and to the agreed specification.
What we do
Junair Spraybooths are the UK's leading spraybooth and paint finishing manufacturer, offering innovative designs and commitment to building high quality, technically advanced refinishing equipment. We tailor every solution to our client, helping you work smarter, save time and money, and achieve outstanding results, now and in the future.
Our services:
Free spraybooth design and quotation
Complete project management
Energy efficient spraybooth technology
Reliable innovative spraybooth products
If you would like more information, or to enquire about spraybooth services from Junair Spraybooths, visit our contact page.
Our Energy Efficient Spray booths
Junair Spraybooths invest heavily in research and development, to ensure our technology and spraybooth equipment is the most advanced and energy efficient on the market. By combining all our innovative energy efficient technology, this can save up to 70% on energy bills.
Whether you're looking for a replacement for your old spraybooth, or an existing and inefficient spraybooth is in need of improvements, our energy efficient products will suit your needs. If you would like Junair Spraybooths to highlight any potential energy savings, click here today for a free site survey.
Our Spraybooth Technology
The Junair name is synonymous with innovation in spraybooth development, providing solutions that deliver energy-savings, higher productivity, enhanced performance and, ultimately, increased profitability for our customers. The inherent design flexibility and in-house British manufacture allows any spray booth to be tailored to suit individual dimensions and performance requirements.
Junair Spraybooth technology is both patented and award winning. Contact a member of our team today for more information.
Energy Efficient Technology
Bodyshop paint finishing operations, including dust extraction and compressed air, can account for as much as 90% of the business' energy usage. With the wholesale price of gas and electricity rising, the burning issue for bodyshops has got to be minimising the impact on their profits. Junair Spraybooths provide energy efficient solutions across a broad range of industries.
An energy efficient spraybooth from Junair will reduce your fuel bills!
Junair are proud to be working with some amazing companies

















Contact Junair Spraybooths
Contact Junair Spraybooths today to discuss the wide range of services that we offer with a dedicated member of our team. Whether you are seeking automotive, industrial, commercial or aerospace equipment, we are sure to have the ideal solution for you. Give Junair a call or contact us online now to take your business to the next level.
Request a Call Back
From Junair Spraybooths