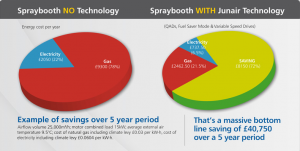 Centrica, the owner of British Gas, has stated that increasing wholesale gas costs will make supplying energy to UK businesses more expensive this year.
Centrica went on to say gas costs would be 15% higher next winter.
"The trend for retail energy costs therefore remains upwards
In August last year British Gas customers were hit with a colossal 18% rise in gas prices.
In this current economic environment it is essential that any overhead is kept to a minimum and energy saving is where Junair Spraybooths can be of assistance. Award winning and patented spraybooth technology from Junair Spraybooths can be retro-fitted to any make or model of spray booth oven to reduce running costs by up to 70%.
Harlequin Motors fitted Junair QADs, Variable Speed Drives and Fuel Saver mode to their existing Nova Verta spray booths and saved £15,347 in twelve months and that didn't take in to account energy price rises within that period, so the real savings were much higher.
Harry the owner of Harlequin Motors stated "The retro-fitted equipment Junair supplied and installed has been a complete success and the savings have surpassed my expectations."
Alternatively you can view the full range of spraybooth equipment and accessories and services that Junair Spraybooths offer by visiting our home page.