Innovation, technology, research and development are just a few of the key focuses at the heart of our automotive industry. As the decades have come and gone, the industry has progressed in leaps and bounds to stand proudly where it is today.
Robotics has played a huge part in all this. In terms of the various technologies the automotive industry has taken on, robotics is definitely up there with the most important. Robotics technology has sped up processes, streamlined and increased the volume of production, and allowed businesses to altogether remove the element of human error (while of course retaining human problem-solving and creativity).
In honour of what robotics has done for us, we're going to look at the history of automotive robotics and how this technology has been adopted by our automotive industry.
How robotics technology began
Historically speaking, robotics goes way beyond the car spray booth applications we're familiar with. The modern notion of 'robotics' can be traced back to a 1921 play called Rossum's Universal Robots which, while not wholly relevant here, gives us an idea of the possibilities and potential fears of robotics technology at the time.
The play saw robots and their associated technologies work alongside the manufacturing industry until, as various films and television shows have told us, the robots eventually disobeyed their masters and fully revolted. Of course, we don't believe everything that Hollywood says given that robotics has worked in happy harmony alongside humans.
This is the first inception of robotics, and it didn't receive too much fanfare. From fears of revolt to job loss anxiety, the general public looked at robotics with some suspicion.
It wasn't until the First World War that we started to see robotics work in tandem with businesses in the automotive industry, and to great effect we might add.
'Fordism' and laying the foundation for robotics
In 1913, Ford introduced an assembly line which worked using a winch, rope and pulley system. Rudimentary as it was, the system grew into a 150 foot assembly line which used a chassis that was pulled along by a winch. As Ford tweaked and changed their assembly line, they were able to significantly reduce man hours and streamline the pulley system (which was eventually replaced by an endless chain). This, in the years that followed, came to be known as 'Fordism' and it laid the foundations for countless other manufacturers at the time.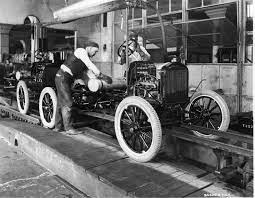 By 1916, they had perfected the assembly line to such an extent that it created new possibilities for the company. The now famous 'Model T Production' process was made possible and was used as a template for Ford's manufacturing for years to come. It allowed them to process heavy vehicles without the need for manpower or physical toil.
Let's fast-forward to 1961…
While this Ford technology was groundbreaking for its time, it doesn't quite resemble the robotics technology we work with today. It wasn't until the early 1960s that robotics technology made its real mark on the automotive industry. 1961, to be exact.
The first industrial robot system was introduced in New Jersey, on a General Motors assembly line in 1961. The robot system in question was called Unimate and was invented in the early 1950s by George Devol. So innovative was Unimate that it took seven years for the automotive industry's governing body to accept and register the patent.
The patent for Unimate read:
"The present invention relates to the automatic operation of machinery, particularly the handling apparatus, and to automatic control apparatus suited for such machinery".
Sound familiar? Devol's invention would pave the way for industrial and automotive robotics, and it's Devol we have to thank for a lot of the solutions we work with today.
One of Unimate's biggest responsibilities was spot welding, however over time it took on countless more duties which eventually courted attention from some of the bigger automotive companies (like Ford).
1968 and Marvin Minsky's Tentacle Arm
Created by Marvin Minsky, the Tentacle Arm was an ingenious 12-joint robotic arm controlled using a computer or joystick. Minsky's creation is an anomaly here because it was designed not for manufacturing but for medicine. The mechanics were nimble enough to carry out more specified and adroit tasks like screwing lids on bottles of medication, etc.
1969 and the 'Stanford Arm'
The automotive industry looked on as Unimate and the Tentacle Arm helped businesses reduce costs, drive productivity and much more. Years of investment followed into the mid to late 1960s until another landmark innovation in 1969.
Created with more sophistication and kinetic mobility (it even had six degrees of freedom), the Stanford Arm was an industrial robot created by Victor Scheinman at Stanford University. It was adopted not just by automotive businesses but across manufacturing and industrial-based companies.
1974 and the 'Silver Arm'
As has been the story, one technical feat has usually been followed by another. Five years after the Stanford Arm came the Silver Arm, a creation made famous by David Silver (a student at the Massachusetts Institute of Technology). This creation surpassed the Stanford Arm because of its complex and – at the time – futuristic appearance. The robotic arms we're so familiar with today can be traced right back to David Silver's creation. It used tiny embedded pressure-sensitive sensors along with a highly technical microprocessor. A robotics boom swiftly followed, and with the integration of the Silver Arm in countless automotive businesses the industry saw continued year-on-year growth of 30%.
1980s and modern day robotics
From China to North America and beyond, robotics technology has proven instrumental in improving productivity, streamlining processes and making real long-term savings. From the 1980s onward, we've seen drastic improvements in the technology available to the automotive industry.
Take, for example, the automotive robotics and automated spray systems available at Junair. We combine years of experience, research and development to provide a consistently high level of robotics technology for the automotive spray booth market.
These are just a few of the products we can offer in this area:
Pressure Feed Systems
Pumped Low Pressure
Pumped High Pressure Feed Systems
1K Single Component Feed Systems
2K Plural Component Automatic Feed Systems
You can be a part of the robotics story
Given the scale of investment and expertise in the field, the story of robotics technology is still unfolding before our eyes. Our products are testament to our skill and dedication to product research, and you'll not only improve productivity and reduce costs, but the quality of your work will be unparalleled.
To learn more about how we can help your business, simply call us on 01706 363555 or email sales@junair.co.uk. We also have a quick enquiry form which you can find here.