Colour temperature is one of the most important factors when choosing a light for your room because it can have a huge impact on the 'feeling' that you want to create.
It refers to the appearance of light provided by a light bulb and can often be defined as warm or cold.
This blog explores the concept of colour temperature, what we mean by warm and cold light and the different colours and their typical applications.
Warm light and cold light explained
The idea of 'warm light' and 'cold light', comes from what we experience as warmth or cold and the associations we make in our mind with the colour of those things.
For example, we associate reds, oranges and yellows with warmth because of fire or the sun. Similarly, we associate blues and greens with cold because of things like ice, glaciers, or the sea, the colours remind us of the feelings we get from experiencing these things.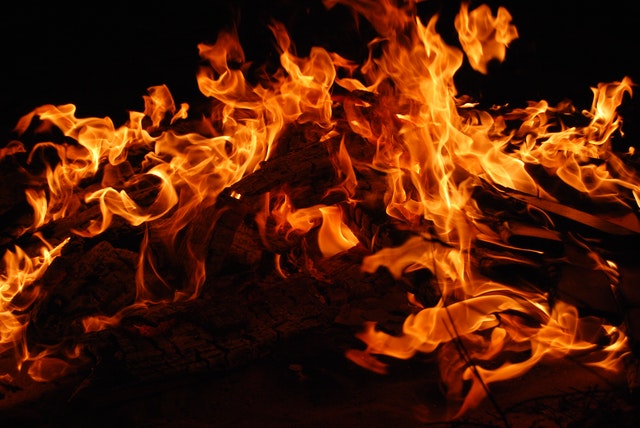 So, when we light a room with a bluer light, we feel it is 'cold' and a room with a yellower light, we feel it is 'warm' which evokes a cosy feeling.
Having a 'cosy' workplace environment, might not be the most conducive to productivity, you would be more likely to see your employees falling asleep at their desks in the middle of the afternoon!
So, picking the right colour temperature for the tasks that will be carried out in that room is really important, let's look at what you need to know.
Why is the Kelvin scale used in lighting?
The other scales synonymous with temperature, Celsius and Fahrenheit, were both built around water, utilising the freezing point or boiling point.
The Kelvin scale uses the exact same units as the Celsius scale, but it starts at the temperature at which everything, including air, freezes solid. (0 Kelvin is -273 degrees Celsius.)
It is a measure of absolute temperature and named after Lord Kelvin, the man who invented it.
So, as we've discussed in our blog 'Kelvin, Lumens & Lux', the Kelvin scale is used to measure the colour temperature of light. The higher up the scale, the whiter the light. It correlates with day light and other light sources such as candlelight.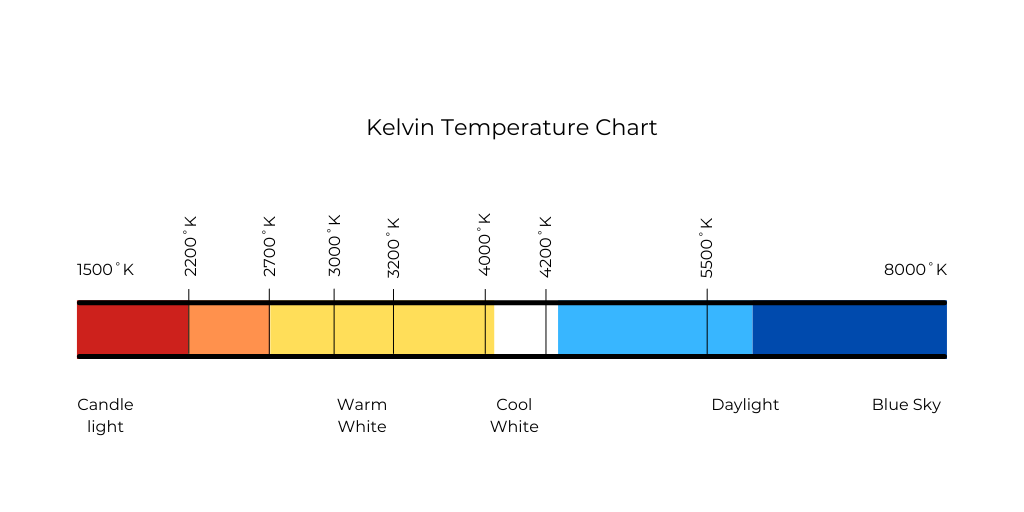 Let's explore some of the main light colours within the scale.
Warm white
Warm white bulbs are between 2700k and up to 3500k and is the most common colour temperature for domestic lighting. It has a yellow tinge and creates a feeling of warmth that is suitable for living rooms and bedrooms.
Cool white
Cool white bulbs are between 3500k and 4200k with no yellow tinge and create a more neutral white light. The output is a lot crisper and more functional which makes it suitable for areas where tasks are carried out, such as a kitchen, workbench or an office area.
Daylight
Daylight equivalent bulbs are between 5000k and 6500k, providing a highly functional, blueish light, typically suited to tasks that require daylight for accuracy.
These are typically more prevalent in retail environments or in places where colour replication is really important, such as a car body shop for example.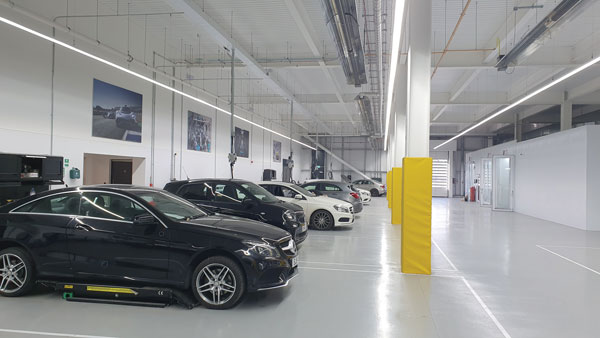 How do I choose the right colour temperature?
With the multitude of lighting options available on the market today, it is really important to explore your options before you make your decision.
The good news is that because of the wide variety of options, you won't be stuck for choice.
With the added benefit of SMART lighting systems, you can customise your rooms with features such as light dimming, timers, colours and hues.
First identify what it is that you will be doing in that room, what is the ambience you would like to create and then you can match the purpose with the right colour temperature for you.
If you would like to discuss lighting for your workplace, Junair have been supplying high performance LED lighting to the automotive repair industry for many years, making them ideally qualified to advise on your requirements.
Feel free to speak to a member of our team on 01706 363555 to find out how we can help.