QADs Auxiliary Air Movement System
Find out more about the latest spraybooth technology from Junair Spraybooths
Download Brochure
Energy Saving Technology Developed & Patented by Junair Spraybooths
With our QADs auxiliary air movement system, you can save time, energy and money on paint drying and curing. You will also be able to process more work and generate more revenue, giving your business an invaluable asset that will future-proof your business' health and income.
How our QADs spray booth system works
QADs is an advanced auxiliary air movement system that supplies airflow from the corners of the cabin. Developed and patented by Junair, the system is designed for use with coatings that comply with current legislation. The QADs SN (Static Neutralisation) System is an addition to our QADs auxiliary air movement system, designed to reduce the static charge produced during the finishing process. The static neutralisation system operates during cleaning, flash off and curing cycles. Reducing the static charge on the item to be painted improves cleanliness and reduces metallic distortion which aids colour matching.
Features and benefits of QADs technology includes:
Saves up to 40% of energy cost
Faster flash off for waterborne base-coats
Faster, through curing of low VOC top coats
Overall paint process is around 35% faster using QADs
Automatic in operation and therefore deliver consistently superb results
Clean in operation, air is filtered to just 10 microns
QADs can ease the common Bodyshop bottleneck – the spraybooth
Reduces the need for fast activators – less stock holding
Cover the whole vehicle in one operation
Adjustable nozzles for painting panels off the vehicle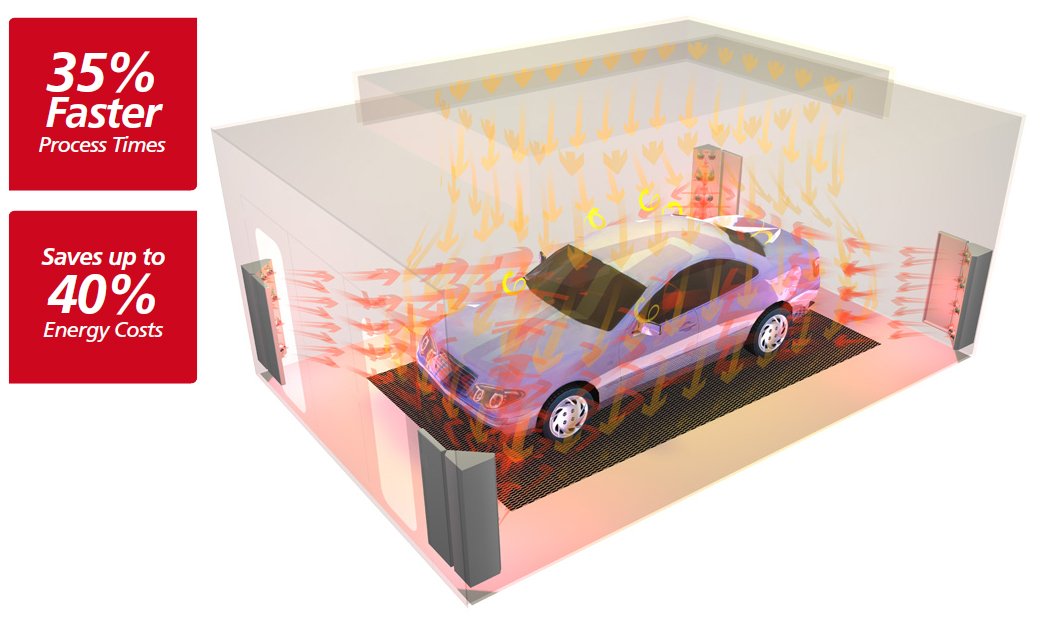 QADs Gallery
The Application of Paint
The Bake Cycle