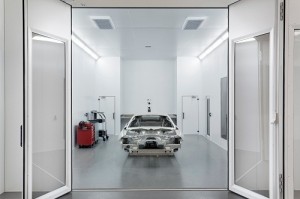 For aluminium collision repair is it necessary to weld and repair vehicles in a self-contained working environment, this is because airborne steel dust particles can corrupt the aluminium welding integrity. Aluminium surfaces can deteriorate through contact corrosion from materials such as steel, chrome, zinc or lead. An aluminium repair bay from Junair Spraybooths is the ideal solution to ensure the necessary isolation within a body repair shop, it also gives you confidence and assurance that the quality of your work will not be compromised by contaminants.
Aluminium Repair Bays Tailored to your Requirements
If steel particles are exposed to aluminium, a process called galvanic corrosion takes place. This process causes the aluminium to deteriorate and can significantly reduce the quality of the paint finish. Carrying out repairs in a dedicated aluminium repair bay will ensure that any work you carry out will be free of potentially harmful contaminants.
An aluminium repair bay from Junair Spraybooths can be designed and built to suit your individual body shop requirements, these bays are constructed to match our spray booths and share the same shell components including lights and doors. With an aluminium repair bay from Junair, mechanical background ventilation is included and fitted with additional options which include electrical sockets, dust extraction, storage cupboards, welding fume extraction and work bench. All our aluminium repair bays meet the standards required by the leading motor manufactures.
Junair manufacture an extensive range of products such spraybooths, paint mixing rooms and wheel refurbishment equipment. Thanks to our expert in-house development team's commitment to continued research and our many years experience within the industry all our equipment is designed to optimise efficiency, productivity and profit.
Contacting Junair Spraybooths
If you would like to discuss in further detail, any of the equipment we provide you can contact our friendly team on 01706 363 555 or alternately email sales@junair.co.uk and a sales representative will contact you.
Learn more about the leading spraybooths manufacturer.