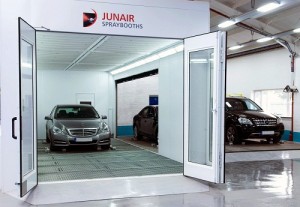 In recent months the news headlines have been dominated by the ever rise in energy prices. Some rises have been as much as 10% and for UK businesses these energy prices are rising faster than any other country.  For many organisations energy prices amount to a large percentage of their overheads, this additional cost can reduce the profit margins for many organisations.
Here at Junair we are making every step we can to provide our customers products and equipment that help reduce their energy consumption. To do this we have invested in a purpose built research and development facility at our head office in Manchester. We use this facility to develop new innovative technology and paint finishing equipment aimed at reducing energy consumption.
Your spray booth or spray booth oven technology can pay for itself within the first year
Junairs' Spray booth or spray booth oven technology can save you up to 70% on your gas and electricity bills compared to conventional spray booth technology. With such a big saving, the initial outlay for the equipment is often recouped within the first year. These huge savings are achieved using our patented technology such as QADs auxiliary air movement system, variable airflow, fuel saving mode and in-built static neutralisation.
Our latest energy efficient technology we have added to our range is LED lighting. LED lighting has a number of unique advantages over traditional florescent lighting, however the main advantage is lower energy consumption. Using LED is the most efficient way of illumination and lighting, with an estimated energy efficiency of 80%-90% when compared to traditional lighting and conventional light bulbs.
The technology that Junair have developed is not only available to customers installing a new spray booth or spray booth oven, the technology can also be retrofitted to an existing spray booth or spray booth oven.
Contact our friendly team
Junair offer a free of charge site survey where we will highlight potential energy savings that can be achieved. To find out more information or request a free no obligation site survey please contact a member of our friendly team on 01706 363555. Alternatively you can email sales@junair.co.uk
Discover more about the leading supplier of spray booths.