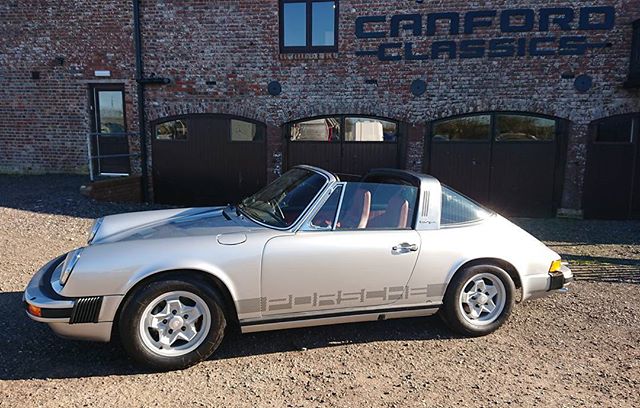 Canford Classics are an internationally renowned Porsche specialist, nestled in the quaint village of Bere Regis. Their attention to detail and top quality finishes, to exacting original specifications are the driving force behind their worldwide reputation. In order to increase their control over the quality and time scales of the finished restoration projects Canford Classics decided to bring the refinishing of the paintwork in house. Having heard of Junair's reputation for quality products and the finish that a Junair spraybooth can achieve Canford Classics turned to Junair for assistance.
Classic cars given the star treatment
The bodyshop area of the business is an extension to the workshop. Due to planning restrictions the workshop size was restricted so Canford Classics consulted with Junair as to the optimal position and specification of the spraybooth in order to impact as little as possible on the rest of the bodyshop. The 3 Series spray booth comes with a fully gridded floor and its roof mounted plant ensures that it has a minimal footprint. As the 3 series is fully downdraught, it offers the ability to paint multiple off car panels at the same time without the risk of cross contamination of colours, as the overspray is drawn straight down to the floor extraction.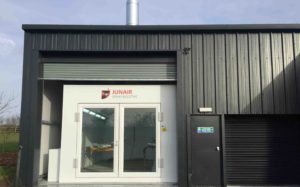 Steven Wood, Sales Manager at Junair Spraybooths commented "When Canford Classics came to us they made it clear that they wanted a booth that could produce a high quality finish, but as they didn't have a high volume the speed of the process wasn't a vital factor. The 3 series we installed is fully downdraught, giving them a laminar airflow for the best possible finish, but we didn't include the time saving QADs as we didn't believe it would be cost effective in this instance."
Alan Drayson, Managing Director, for Canford Classics commented "We were thrilled with the service we received from Junair. The installation team were fantastic and great at communicating the next steps. The spraybooth gives us the quality finish we were striving for, I wouldn't hesitate to recommend Junair based on the experience we received."
Contact the spraybooth specialists today!
If you would like more information on Junair Spraybooths and the range of equipment we offer, then contact a member of our expert team on 01706 363 555 or email sales@junair.co.uk. You can also contact us online and we will get back to you as soon as possible.
Discover the complete range of spray booths.