Cure and Dry Off Ovens
We can supply ovens to suit a range of requirements, including cure and dry off ovens for a range of applications.
A recent contract consisted of the supply of a small oven for use with a conveyorised powder coating application to alloy wheels.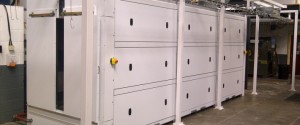 Junair designed and manufactured a conventional hot air recirculation cure oven which operates at 190 deg C and allows a controlled distribution of heat onto the products.
Another recent installation was for the supply of a gas catalytic oven for the curing of powder paint onto small aircraft components. The oven was supplied pre-assembled for ease of installation with minimal on-site activities.
An extensive testing program ensured that all the clients parts could be cured using the pre-set recipes held within the control system.
As leading engineers and manufacturers in the  industry, we pride ourselves on our innovative designs that can adhere to a range of needs and requirements. From cure ovens for low temperatures to box type ovens for batch production, dry off ovens to gas catalytic infra-red ovens for pre-gel or full cure, we can design and manufacture a solution that  meets all your specifications.
To find out more about our cure and dry off ovens, don't hesitate to contact a member of our team who will be happy to discuss your requirements. If you'd like to find out more about Junair or the range of spray booths and commercial systems we design, manufacture and install feel free to browse our site or take a look at our gallery.
Learn about the complete range of spraybooth solutions at Junair.