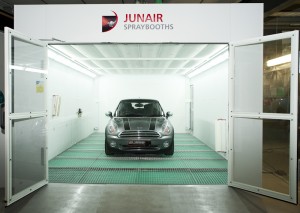 With a UK based manufacturing facility utilising up to the minute computerised production equipment Junair Spraybooths can provide a custom made car spray booth to any specification and configuration you require.
Whether you require a non-standard size of spray booth or have specific performance requirements Junair's highly trained and experienced personnel will design a custom made spray booth to ensure your specification is met.
And you can rest assured that your spray booth will comply with current legislation and Health and Safety requirements.
Alternatively you can view the full range of spraybooth equipment and accessories and services that Junair Spraybooths offer by visiting our home page.