Junair Spraybooth's Complete Job In New Zealand
Junair ANZ recently completed their first spray booth in Wellington, New Zealand. The installation went very smoothly and took five days. The booth was commissioned on a Saturday morning and by the evening the proud owner was spraying anything he could lay his hands on, so delighted was he with the equipment.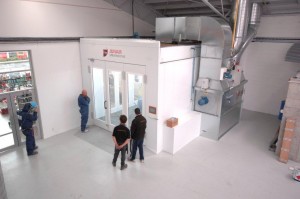 The installation consists of a Junair 525i Series spraybooth oven complete with LEVAC floor, QADs, Fuels Saver mode and I system with touch screen. The oven has two large viewing windows and the personnel door has an oversized window for ease of viewing also.
The client, who is one of New Zealand's largest PPG paint distributors, uses the facility as a Training Centre. After watching a Mazda Demio being sprayed in the new spray booth, one of PPG's senior Managers reported to a prospective Junair client that the booth, and in particular the QADs impact on greatly reducing drying times, far exceeded his expectations. The prospective client was so impressed he is now looking at installing Junair QADs in his relatively new competitor's spray booth.
The client is delighted with the installation and the performance of the equipment and is happy to welcome any prospective Junair Spraybooth's clients wishing to view the equipment prior to purchase. Learn more about the industry leading spray booth supplier.
Enquiries for Junair ANZ can be directed to sales@junair.com.au