At Junair Spraybooths, carbon efficiency and fuel economy has been at the forefront of our designs for over 20 years, it continues to be an important factor to our customers. There are numerous reasons as to why fuel economy is not only important but a necessary part of our operations.
With the wholesale price of gas and electricity rising, companies will find it is time to strategize how they adhere to their spray booth needs whilst having a positive impact on the environment. This guide offers an insight and overview of how we've implemented new ideas and workings that has allowed us to improve the fuel economy of our equipment. 
Size does matter
The size of a spray booth and its required airflow generally determines the size of the air handling plant needed, and the smaller the AHP the less consumption of fuel – Junair have always tried to find the perfect balance between low as possible air flow whilst still achieving great performance.
QADs technology at Junair Spraybooths
Unlike competitors, who use higher speeds of airflow to achieve good paint drying times, (meaning larger AHPs) the innovation of Junair QADS system, a technology devised over 15 years ago, means we enable the booth to run as economically as possible. 
QADs is a cutting-edge auxiliary air movement system that provides airflow from the cabin's corners. Junair developed and patented the technology, which is intended for use with current-law-compliant coatings.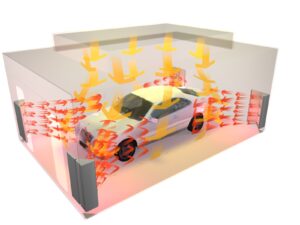 Features and benefits of QADs technology includes:
Saves up to 40% of energy cost

Faster flash off for waterborne base-coats

Faster, through curing of low VOC top coats

Overall paint process is around 35% faster using QADs

Automatic in operation and therefore deliver consistently superb results

Clean in operation, air is filtered to just 10 microns
QADs allow us to cover the whole vehicle in one operation, saving time and money. QADs boast adjustable nozzles for painting panels off the vehicle, making it one of our most versatile spray booth options available. Find out more about QADs technology here.  
Variable speed drive
The use of Variable Speed Drive  on spray booth fan motors is a technology Junair introduced over 15 years ago. By varying the airflow volume dependent on the process we achieve lower electricity and gas costs. A fully automatic system, energy savings are guaranteed.
Fuel saver mode 
Introduced over 10 years ago, Fuel Saver mode offers the chance to reduce costs and carbon footprint. The majority of the energy needed by a spray booth is used to heat the outside air to the required temperature within the cabin, which is typically 22C° for spraying.
During idle and flash off modes, Fuel Saver Mode switches the air handling plant to recirculation resulting in fuel efficiency. 
Both fuel saver mode and variable speed drive are now standard on our automotive booths.
Why should my business become more fuel-efficient?
At Junair, we are always trying to stay ahead of the industry. At present, we are in the process of researching the benefits of alternative energy sources to run our booths. Stay tuned to find out more. Get in touch with a member of our team today to discuss how you can save money on your spray boothing needs.