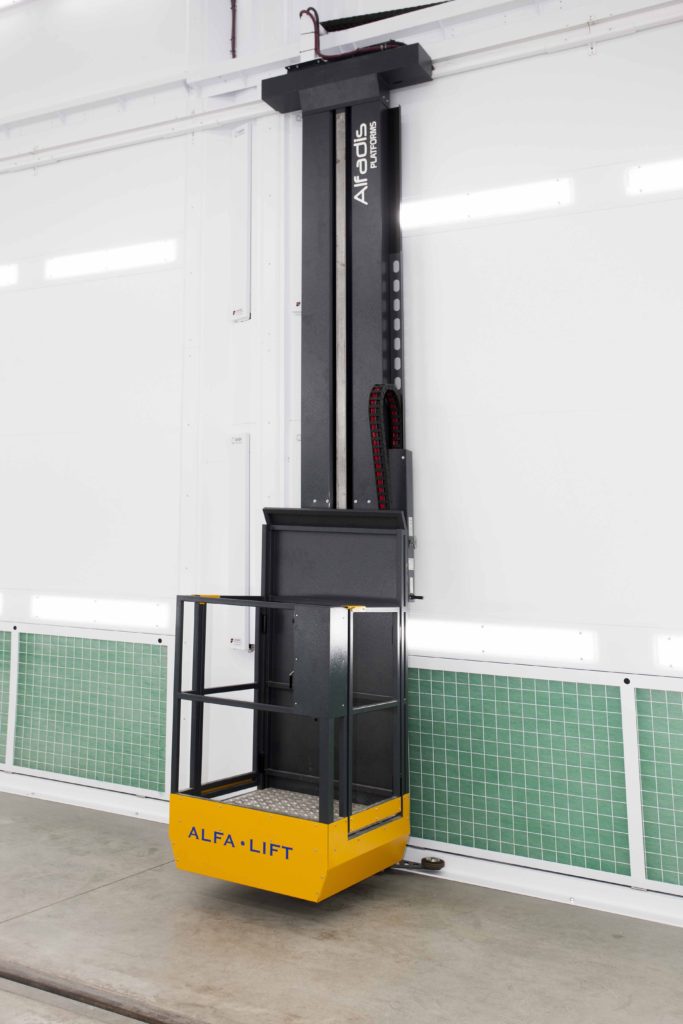 Anyone with a spray booth for large or commercial vehicles will have come across the issue of how to access all areas of the paint job in hand. When you're faced with working at height in a paint spraybooth it can be difficult to know what method of access to use in order to comply with the procedures of working at height, whilst also conforming to the regulations of working in areas at risk of explosion.
The working at height guidelines state that when you have a high risk of a fall, or when the job has a duration of over 30 minutes, methods other than ladders should be taken into consideration. A wall mounted access platform is ideal in these situations.
Manoeuvrable spraybooth equipment
Using a 3 dimensional Wall-Man style platform means that the platform can move on a vertical or horizontal plane, as well as being able to move towards or away from the paint job. This ensures that with minimum time and effort the painter can access the entire job without having to ascend and descend ladders whilst carrying spraying equipment and wearing cumbersome PPE.
Then there are still the stringent ATEX regulations to take into account. ATEX is an acronym for ATmosphere EXplosive and, as the name would suggest, its regulations are in place to protect workers from explosive atmospheres. An explosive atmosphere is deemed as "an atmosphere containing a mixture of flammable gases, vapours, mists or dust with air, under specific atmospheric conditions in which after ignition has occurred, combustion propagates to the flammable mixture".
In the case of spray booths, this boils down to the fact that certain paints contain flammable solvents which in turn release flammable fumes. In order to mitigate the hazard of explosion, ATEX rated equipment is required for use within the spraybooth, this narrows the number of available personnel access platforms down to just those with pneumatic or hydraulic controls.
Reliable access platforms for spray booths
Pneumatic and hydraulic access platforms come in a variety of shapes and sizes with a range of benefits from single man lifts working on 2 dimensions through to multi- personnel lifts operating in 3 dimensions, bespoke options are also readily available. When sourcing an access system it's important to ensure you have completed a risk assessment and are aware of which features are necessary to safeguard your employees.
"Over the years we have installed a number of personnel lifts into our spraybooths and our customers have definitely been impressed with the increase in productivity as well as being able to ensure the health and safety of their staff." Jason Douglas, Junair Spraybooths
As well as the health and safety implications, the personnel lift significantly reduces the time taken to mask, paint and inspect large or commercial vehicles with obvious efficiency benefits, often seeing a return on investment in less than two years.
"Since installation Junair have been providing on-site product training to ensure that all of our operatives are competent in the correct and safe operation of the pneumatic access platforms. Our operatives find the platforms safe and easy to use and helps them to carry out their jobs efficiently." Martin Brand, First Glasgow's Major Repair Business Manager
Install an access lift from Junair
A common misconception when looking for manoeuvrable access platforms is that they need to be installed at the same time as the spray booth. This however is not the case, as long as the paint booth walls are of a reasonable strength they can be retrofitted with minimal disruption.
For more information on retrofitting an access platform to your spraybooth or finishing equipment, or to find out more about a new commercial vehicle spraybooth or other finishing equipment contact the experienced sales team on 01706 363 555. You can also contact Junair online for any enquiries and we will reply as soon as possible.