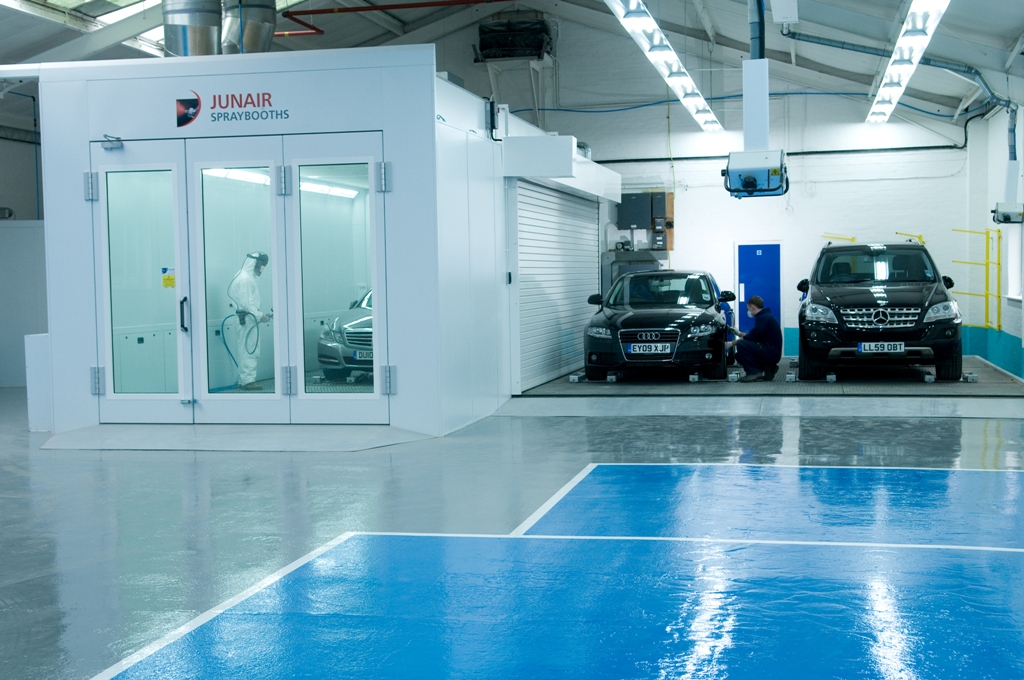 Rye Street Group, shortlisted for Bodyshop of the Year 2015, are a group of six independent bodyshops covering the South East of England.
Rye Street have a large number of Junair spray booth ovens as well as ancillary equipment, including paint mixing rooms, dust extraction systems, lighting, wheel repair equipment and SMARTAIR painting systems.
Having grown the business in a challenging economic environment, last year was a record year for the group in terms of turnover. Their main focus has been on reducing cycle times, with a target of six days key-to-key time meaning everything needs to run efficiently.
Junair Spray Booths Boost Efficiency
With cycle times in mind, Rye Street Stansted installed a Junair 3 series spraybooth with a side loading system. Vehicles are placed on skates and rails for ease of movement, resulting in reduced vehicle movements within the bodyshop area, saving valuable time. Also, by masking cars before they enter the spraybooth, 15 minutes per job is typically saved.
Further reducing cycle times Rye Street also installed Junair's patented QADS system. This advanced auxiliary air movement system supplies airflow from the corners of the cabin resulting in the overall paint process being 35% faster. QADs also have the added bonus of saving up to 40% of the energy costs of the spray booth. Uniquely, Junair's QADS system works both to flash off the water based basecoat AND to speed up drying of clearcoats and primers.
A key factor in the success of Rye Street Group is a strong focus on the analysis of the facts. Daily reports are published focusing on their "three Q's" – quantity, quality and quickly. The quality that Junair are synonymous with and the technology that their spray booths and equipment offer put Rye Street in a great position to achieve their aims.
Bill Duffy, Managing Director, Rye Street Group said "Quality is the key to our positive reputation – quality of workmanship and of customer service."
Proud to Support Growing Business
Grahame Kitchin, Sales Director, Junair Spraybooths commented. "It was an honour when Rye Street chose to install Junair equipment, knowing that their focus is on quality, efficiency and key to key times. Junair's equipment works with Rye Street Group to help achieve their aims."
Rye Street Group's ongoing success is facilitating their future growth, with the group seeking a further two sites going forward.
For further information on the Junair range of automotive spraybooths or QAD systems please call our experienced team on 01706 363 555 or email us at sales@junair.co.uk