As a leading UK manufacturer of spray booths, Junair provide a selection of products and services to cover a wide range of needs in commercial and industrial sectors.  By collaborating with leading suppliers of floor and overhead conveyor systems, Junair are able to choose the right solution to meet the needs of every customer.  Furthermore, we are able to integrate the entire range of conveyor systems into most paint shop environments.
Recognised for Quality and Innovation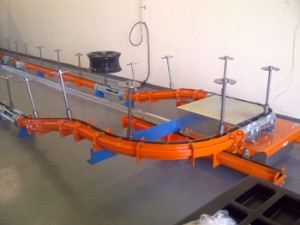 Junair spray booths are renowned for their outstanding quality and ability to make large energy savings for businesses, and it's the same with our floor and overhead conveyor systems.  Our manual overhead conveyors provide cost effective and flexible handling which makes them perfect for smaller operations or where a high degree of flexibility is required.  Our powered overhead and floor conveyors allow continuous or indexing operations, and can be suited to high or low volume production.   For every application our expert engineers will design the conveyor systems to suit the clients process and specification.
Recently, one of our overhead powered conveyors was chosen by a leading UK timber door manufacturer, where we installed a spray booth, forced cure oven and an overhead conveyor system. This has allowed the customer to increase, by up to five times, their volume of production and the speed at which it all takes place meaning better functionality and productivity.
Maximise Your Profit with a Junair Overhead Conveyor System
Our floor and overhead conveyor systems show our pioneering approach to manufacturing and process engineering as well as striving to deliver energy saving solutions, increased performance and productivity to each of our clients.  We strive to ensure our clients receive an excellent return on their investment.
If you want to find out more about our overhead conveyor systems and spray booth equipment, feel free to get in touch with a member of our team today by calling 01706 363 555 and we'll be happy to discuss the needs of your business or any questions you might have.
Alternatively, you can also fill out the contact form on the website and we'll get back to you as soon as we can.