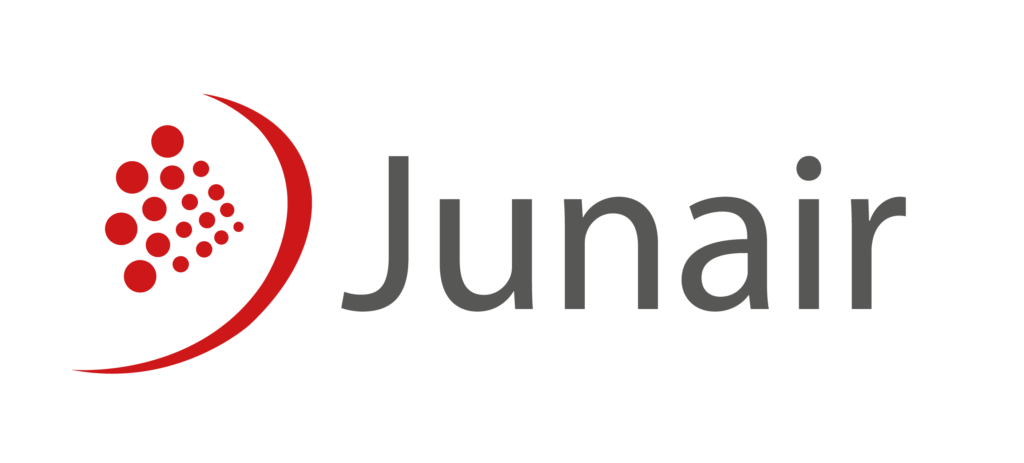 Jason Douglas and Angus Trenholme continue to lead the growth and direction of Junair Spraybooths Ltd following the recent retirement of two long standing Directors.  Angus and Jason wanted to mark this milestone, within both long established and new markets, so the decision has been taken to refresh Junair's visual identity with a new logo.
Junair Spraybooths is a name renowned for cutting edge technology for the surface finishing industry.
What you may not realise is that the company provides not only spraybooths, but also a huge range of related technology to the industries it serves.
"Junair is so much more than a spraybooth supplier" said Jason, Sales Director for Junair.
"We are extremely proud of the wide range of technology and expertise that we can provide to the industries we serve. This goes well beyond just 'spraybooths' and so we felt the time was right to evolve our logo to reflect this."
The new logo provides a link to the old Junair logo but with an alternative, cleaner style.
Jason continues; "The new logo is an evolution of our existing branding rather than a reinvention.  In a similar way, our business and its management team have evolved, but we continue to provide the same great service to our customers."
To accompany the launch of the new logo and branding, the company is soon to launch a new website which will further clarify Junair's offering into the marketplace.
The website will detail the Junair product range covering all areas of the surface finishing process, including surface preparation, fluid handling & paint mixing, automation, material handling, drying and curing, smart repair, workshop equipment, infrastructure and of course, Junair's series of spraybooths.
Julie Frith, Sales & Marketing Coordinator said; "The Junair website was so extensive that we felt it had the ability to overwhelm our visitors. Our offering is very simple; we can provide a solution for every paint finishing requirement, so the new website is very much focused on our overall capabilities.
We hope the new website will simplify the process for our customers."
Over coming weeks Junair will be providing more information about the website launch and welcome your feedback. If you have any questions relating to Junair's product offering, please don't hesitate to contact the team for more information.