Junair has taken part in apprenticeship schemes for over 15 years now and it has proven a very reliable approach to recruiting, long term, committed employees. Apprenticeships are a great opportunity to get out in the real world and get a head start in your career. The Junair apprenticeship scheme offers a fantastic opportunity to gain practical professional skills and on the job training whilst studying for a nationally recognised qualification.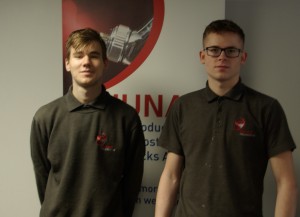 Dale Atkins and Matthew Sutcliffe have recently been employed as sheet metal workers, and will receive on the job training at the Junair head office in Heywood. In addition to this they will be attending RTA College on day release to study various course modules including Health and Safety in the workplace, Sheet Metal and Welding. Their apprenticeships will last for 4 years and on completion, not only will they have a good grounding in a sheet metal fabrication career but they will also gain an NVQ nationally recognised qualification.
Successful Junair Apprentices
Long standing employee Carl Edwards originally came to Junair via an apprenticeship scheme and has never looked back. He was originally employed 15 years ago as a sheet metal apprentice, after completing his on the job training and successfully passing his NVQ level 3 qualifications Carl has thrived within Junair to become a much valued member of the sheet metal fabrication team.
More of our apprentice success stories include Harry Armstead & Matt Scott. Harry joined us last September as a sheet metal apprentice. He's now in his 2nd year of a 4 year course and is also training to programme CNC punches. Matt joined us 3 years ago and is in the final year of his sheet metal fabrication apprenticeship. Both Harry and Matt will gain an NVQ level 2 on successful completion of their courses.
Managing Director Neil Morrison commented, "I strongly believe that investing in our youth is vital for the company's ongoing success, these are our spraybooth engineers of the future. They'll receive on the job training and a well-rounded qualification, it won't be long before they become talented members of the Junair team. We pride ourselves on the ongoing training of the staff here at Junair, and we already have several apprentice success stories like Carl and Harry. Hopefully there'll be many more success stories to come."
About Junair Spraybooths
Junair are the UK's leading spraybooth and paint finishing manufacturer. Our innovative design and commitment to building high quality, technically advanced refinishing equipment allows us to tailor a solution that helps you work smarter, save time and money and achieve outstanding results, now and in the future.
For further information please call our experienced team on 01706 363 555.