Pre-Treatment Plant
Junair can offer pre-treatment plant to suit most applications. We are able to work with new suppliers to design and manufacture systems as required, and we have a wealth of experience of systems with dip and spray immersion, on-line spray and static spray with multi-stage treatment processes.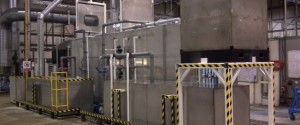 Junair have recently supplied a pre-treatment facility to a large construction equipment manufacturer. Due to a very tight installation window, the equipment was designed, manufactured then fully assembled and tested within the Junair factory before installation at the customer's premises.
Most of our pre-treatment plants are constructed from stainless steel, in a grade suitable for the process which the plant will be implementing. We use 3D modelling to ensure that the whole manufacturing process runs smoothly and efficiently, allowing the customer to rest assured that the pre-treatment plant will be manufactured to the highest standards of quality and design.
The pre-treatment plant incorporated a three stage wash into a twin cabinet arrangement, with the cabinets arranged in tandem fashion. All of our smaller wash-systems are tested in our Rochdale facility to guarantee full efficiency. Elevating vertical doors allowed a true push through facility. The wash chambers were designed with minimal sump height so as to avoid the client having to undertake builders work for pits. The plant contained heated process tanks which sat adjacent to the wash chambers with a control system controlling all aspects of the process. The system was automated to minimise operator input, but all the variable processes were adjustable to include time and temperatures.
The system was installed within the agreed timescale, and the results have exceeded the client's expectations.
Junair spraybooth's are synonymous with innovation and design. All of our machinery is manufactured to provide maximum productivity and performance while offering great energy savings, allowing the customer to benefit further from our high standard technology in spraybooths and equipment.