On the 19th to 21st November the NEC became host to the skills show 2015, the nation's largest skills and careers event. The show attracted over 100,000 visitors, including Theo Paphitis, Nicky Clarke & Top Gears 'The Stig' as well as being featured by the BBC. A winning combination of hands on experiences and impartial careers advice was used to inspire and inform young people about their future career paths.
The skills show not only offered experiential careers advice but also the chance to watch the UK's most talented apprentices take part in the finals of the World Skills UK skills competition. This prestigious event sees the best of the best pit their talents against each other to claim the title of the best in their field.
Putting Auto Refinishing Skills to the Test!
The Junair Spraybooths SmartAir featured as part of the automotive refinishing skills competition. The competitors used the SmartAir to show off their skills, knowledge and talents as auto refinishers, competing against each other for gold in Auto Refinishing.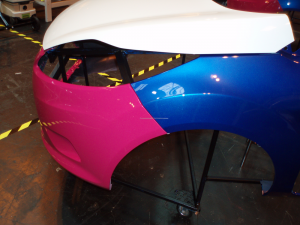 The Auto refinishers were given multiple panels, with a combination of paint types, a solid colour, a metallic colour and a pearl colour. The competitors were required to repair 2 scratches, one in the pearl colour and one in metallic. They were also asked to spray a design on the solid coloured panel. The judges were inspecting several aspects of the finish including appearance, thickness of paint, any contaminants within the paint finish, colour match.
A panel of judges scrutinised the competitors' work and at the end of the 3 day long show a winner was announced.  Congratulations to Adam Litchfield the 2015 Auto Refinishing winner!
About Junair SmartAir
The SmartAir is a mobile painting system that, as its name suggests, is ideal for SMART repairs without the use of a conventional spraybooth. Repairs can be primed quickly without the use of vehicle movement or full masking. The unique hood and masking design means that the masking can be easily folded over creating an enclosure. Once activated the extraction system funnels air into the open aperture of the SmartAir creating airflow into the hood, capturing and dispersing overspray and fumes. The SmartAir allows smaller jobs to be diverted away from the spraybooth, increasing productivity and freeing up the spraybooths for larger more profitable jobs.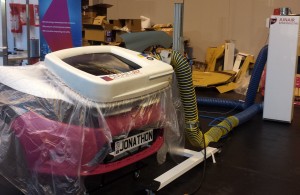 The SmartAir has a 2 stage filtration system, meeting emissions regulations and is compliant with relevant health and safety directives, making it a safe and productive addition to any bodyshop.
For more information about the SmartAir and other products from Junair Spraybooths call the experienced team on 01706 363 555 or email sales@junair.co.uk
Find out more about your workshop's spraybooth solution.