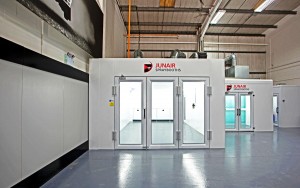 As industry leaders in spray booth technology, Junair Spray Booths supply equipment to a wide selection of businesses across industries including the automotive, aerospace and industrial sectors. Some of the biggest organisations including Jaguar Land Rover, Ford and GKN Aerospace have benefitted from our spray booths. Because we have such a variety of spray booths to offer, we have gained an excellent reputation for providing bespoke solutions based on our customer's requirements.
We have recently completed work for GKN Aerospace, where we installed eleven of our 5 series spray booths. Sitting at the top of the range, the 5 Series spray booth is a highly specified unit which combines production enhancing and energy saving equipment, to deliver a superior quality paint finish, all at a very low cost per unit. With these cutting-edge technology spray booths at their disposal, GKN will benefit from our efficient technology and the savings can be invested in other areas of the business.
Save Money with Junair Spray Booths
In these harsh economic times we understand that every business is under pressure to reduce costs and to save money at every opportunity. The Junair 5 Series spray booth  helps by offering proven energy efficiency and the lowest possible running costs. However our energy saving technology isn't just available on our 5 Series spray booths – our entire range of spray booth ovens offer outstanding efficiency as well.
For example our entry level Junair 1 Series spray booth; this spraybooth has been developed for businesses who want their spray booths to be both economical and low cost without sacrificing on quality. The 1 Series spray booth has been engineered to provide features that are usually only found on a more expensive spray booths, such as the Junair eco-active energy pack which includes variable speed drives for motors, QADS air drying system and our fuel saver system – all automatically operated.
Find out more about our Spray Booth Technology
If you want to know more about how Junair Spray Booths can help save your business money without sacrificing on quality, don't hesitate to get in touch – call our team on 01706 363 555.
Learn more about Junair Spraybooths.