New £2.5 Million Junair Installation At Magna Exteriors & Interiors Up And Running Within A Tight Time Frame
Magna Exteriors & Interiors is a world leader in the design and manufacture of products for the automotive, commercial transportation, renewable energy and industrial markets. They have recently commissioned a new paint plant at the company's Banbury, Oxon, facility specifically for finishing ABS and polypropylene automotive parts. These parts are also moulded by Magna at the same site.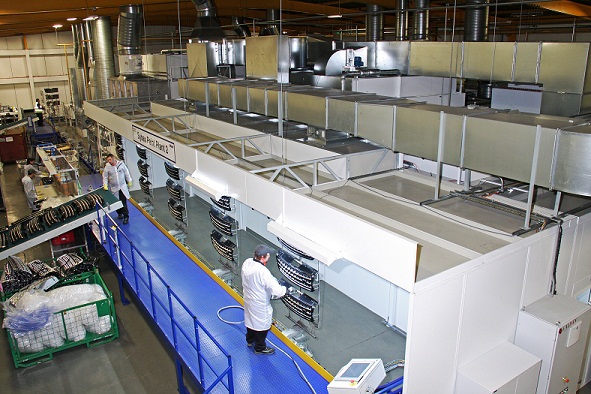 Designed, supplied and project managed by Junair Spray Booths, the £2.5 million facility is largely dedicated to producing high quality "technical finishes", with basecoats having as little as 4 microns thickness. Technical finishes are applied on radiator grilles and other cosmetic exterior components for the latest vehicles from Jaguar Land Rover, although Magna expects other car manufacturers to make use of the plant for similar parts. The new plant is Magna's second plastic paint finishing line at Banbury, and the possibility of installing a third line is already under discussion due to the company's expanding business in the automotive sector.
Installed and commissioned in just 12 weeks from the initial concept stage, the plant has a production capacity of around 10,000 units per week and incorporates a number of innovative handling and processing features. It also has an extremely small footprint – 30 metres by 46 metres, including maintenance access areas – an estimated space saving of some 30% compared to a conventional layout of similar output. The compact layout also enabled the plant to be located in a former warehousing area instead of a new building, which has substantially reduced construction costs. No floor excavations were required for the installation, which was essential to minimise costs as well as to reduce the build programme.
The parts are transported through the plant on custom-designed jigs by a heavy-duty continuous moving inverted chain conveyor – the inverted design avoids the risk of product contamination from chain lubricants and debris. The jigs are double-sided to accommodate a number of part variations and are attached to special rotatable trolleys. There are 131 trolleys in total, pitched at 2.6 metres. The trolley mechanism allows the jigs to be rotated through 90 degrees at specific stages of the process so that they can be accumulated in the minimum amount of space, particularly in the flash-off and curing ovens. A new feature for a paint plant of this type is the innovative "gooseneck" cantilevered trolley design. This allows the trolleys to pass under the flooded booth floor, eliminating the large conveyor cover plates traditionally required when the track passes over the top of the floor. This innovation means smoother airflow in the booth and no risk of paint contamination down into the conveyor chain.
Process sequence
Following the manual loading of the parts in the load station which has pressurised filtered airflow and high levels of illumination, the process sequence starts with de-ionisation utilising Junair's 'QADs SN' static neutralisation system. QADS SN minimises the static charge on the part and enhances cleanliness. This is followed by primer application by robot in a water-wash booth, a primer flash-off oven, then robot application of two base coats in two separate water-wash spray booths – an essential innovation with this type of paint finish. There is then a base coat flash-off tunnel and robot application of a clear coat, again in a water-wash booth. The purpose-built paint robots were supplied by Fanuc and the coatings are pumped to the robots from a sophisticated "paint kitchen" incorporating Binks 2K automatic mixing equipment with 15 circulating colours.
A flame treatment booth has been included after the first de-ionisation stage to cater for future coating requirements.
The spray booths all feature continuous water recirculation and filtration incorporating a sophisticated 'RODAP' sludge removal and treatment system that automatically bags the sludge for easy removal. These units have an innovative design and construction which prevents settlement of solids in the base of the tank. Each booth also has a dedicated air make-up unit and features excellent access for cleaning and maintenance.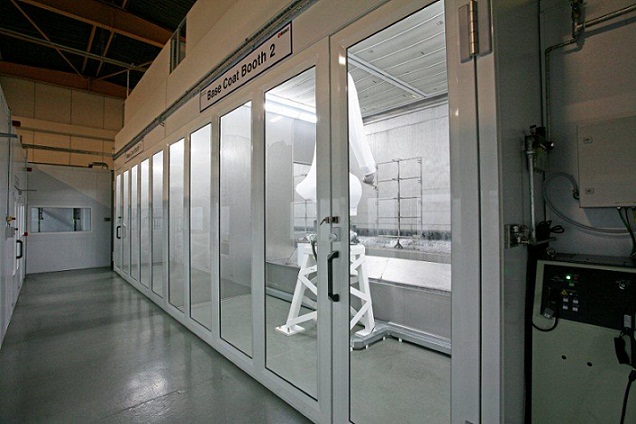 Application of the clear coat is followed by a further flash-off tunnel and then a final curing oven, prior to manual off-loading and inspection. All the flash-off and curing ovens are equipped with the 'QADs' advanced auxiliary air movement system, developed by Junair. This patented system supplies heated and filtered air from the corners of the cabin, optimising air flow around the parts for very even temperature distribution, and maximising heat transfer, saving both energy and cure time. In addition, using the rotating trolley system to turn and accumulate the parts in each of the flash-off and curing ovens has cut the required oven space by over 50%.
To facilitate monitoring of the individual process stages, each has its own easily accessible control station with visual/touch screen indication of its particular process parameters. These stations are linked to a central control room, manned by a single operator who is able to continuously monitor the whole coating operation. The plant has also been designed with generous access areas – all at ground floor level – to facilitate the checking and maintenance of the equipment. This was a major consideration in the overall plant design, as is the unrivalled process visibility for operators.
Although the new paint plant has only been in operation for a few months, Magna reports that its space-saving efficiency and versatility in operation, together with its success at matching functionality with a clean, aesthetic appearance, has already made it "something of a showcase plant" within the Magna organisation – attracting considerable interest from all parts of the company's global operation. Production in the plant has consistently achieved higher than expected results for quality and throughput.
Increase your workshop's efficiency and versatility with a paint booth solution from Junair.
About Junair: The Junair name is synonymous with innovation and quality in paint finishing technology developed to deliver energy-savings, higher productivity, enhanced performance and increased profitability. In particular, the company has pioneered some of the industry's most significant advances in spray booth performance and energy efficiency. The Magna installation is an ideal example of the company's expertise in overall plant design. www.junair-spraybooths.co.uk
About Magna: Magna is a leading global automotive supplier with 296 manufacturing operations and 88 product development, engineering and sales centres in 26 countries. Its product capabilities include producing body, chassis, interiors, exteriors, seating, powertrain, electronics, mirrors, closures and roof systems and modules as well as complete vehicle engineering and contract manufacturing services. www.magna.com