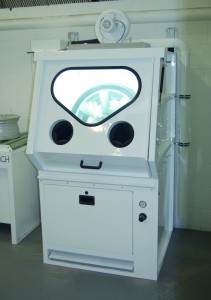 With a reputation for manufacturing world class Spraybooths, the Junair brand has become synonymous with high quality, reliability, durability and energy saving solutions within the industry.
Our Shot Blasting Equipment Is Cost-Effective
In addition to Spraybooths, one of the areas in which we excel is with Junair Shot Blasting Equipment.  We offer a range of shot blasting equipment to suit all client requirements, ensuring we provide them with the most cost-effective solutions.
At Junair, we work in collaboration with leading manufacturers so we can offer clients a complete range of equipment to include manual blast cabinets, manual walk in blast chambers through to automated shot blast systems, rotary systems and wheel machines. This expertise applies to all surface finishing applications.
Our Shot Blast systems include a myriad of equipment and features including:
Fully rubber lined blast rooms,
Conveyorised systems
Dust extraction and shot recovery systems which include vacuum recovery & elevator recover though to full recovery floor systems
Specialist equipment such as plastic media blasting and sponge blasting
Wheel blast machines specially design for alloy wheel refurbishment
We strive to ensure sure that our customers get the most successful results for their needs at the most competitive prices.
We provide our shot blasting equipment to the industrial and aerospace sectors. This equipment includes manual blasting systems for the entire range of substrates including aluminium, steel and composites.
With regards to the blast rooms we provide, they are designed and manufactured to suit the client's process and can include integrated handling systems such as overhead and floor mounted conveyors.  In addition to the standard rubber lining, we can also offer acoustic attenuation if required.
Find Out More About Our Shot Blasting Equipment
To find out more about our shot blasting and wheel repair equipment, feel free to get in contact with the sales team and they will be happy to help with any enquires.  Junair Spray Booths can handle any job however small or large! Learn more about the cutting edge technology utilized by Junair Spraybooths.
Please call +44(0)1706 363555 to speak with us today.