As part of Fix Auto Rochdale's recent £1 million investment in the development of their award winning repair facility Fix Auto purchased a state of the art Junair MultiBooth. The 4-bay MultiBooth has been installed and commissioned in a brand new open plan facility on land adjacent to their existing premises. The new site is now a purpose built Fix and Go express repair facility, designed to complement their existing award-winning bodyshop.
Chairman of Fix Auto Rochdale, Phil Ewbank commented: "Having had a relationship with Junair for nearly 30 years it was very refreshing to hear they had been working on the research and development of the MultiBooth for some time. The launch of the MultiBooth came at the perfect time to fit in with our plans to develop our new Fix & Go site. I have to say from the initial discussions with Jason and seeing the YouTube animation of the MultiBooth we felt this fitted our requirements perfectly."
MultiBooth Installations from Junair Spraybooths
The new MultiBooth installation allows the Fix and Go facility to focus on the rapid repair of light to medium damaged vehicles, improving their customer experience and considerably improving their cycle times. Key to key time, cost and quality always feature highly in customer demands and now with the new MultiBooth from Junair, Fix Auto Rochdale are able to deliver on all of these requirements.
As each MultiBooth cabin is a combination preparation area and full low bake spraybooth oven, multiple vehicles can be repaired simultaneously in a clean, controlled and safe environment. There is no need to move vehicles from preparation areas to the spraybooth as they are already in situ, by minimising vehicle movements the time spent repairing vehicles is maximised increasing throughput. Paint overspray is contained within the individual bays ensuring a cleaner workshop environment and eliminating cross contamination of panels and vehicles. The Junair MultiBooth Spraybooth is robustly built using a steel, double skinned, insulated construction which meets HSE regulations including the essential 30 minute fire resistance.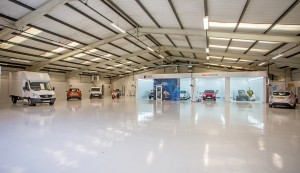 Jason Douglas, Sales Director at Junair Spraybooths commented: "When Fix Auto Rochdale initially came to me with the brief it became instantly apparent that the MultiBooth was the answer. Not only does it reduce cycle times by allowing cars to be prepared, sprayed and baked in situ, but it also offers the same high quality finish that you get from a standard Junair spraybooth. As the MultiBooth shares an air handling plant across all the bays the initial outlay is less than you'd expect, and when you include the Junair energy saving optional extras the savings just keep adding up."
Phil Ewbank continued: "From agreeing the design of our new facility, to modifications to suit our LCV requirements, right through to the installation Junair were faultless and thoroughly professional in their customer service and approach to our tight timescales. Trials are well underway and the feedback from the staff is very good, but most of all our customers are delighted with the speed of the repairs, we can now reduce the overall cycle time by having such a versatile and state of the art piece of equipment which offers us the ability to triple our capacity."
Contact Junair Spraybooths for Spray Booth Equipment
For more information on the Junair MultiBooth Spraybooth or other products in the Junair range you can contact us online.
Find out more about the leading spray booth manufacturer for multiple industries.
Alternatively, you can speak to our experienced team directly on 01706 363 555.