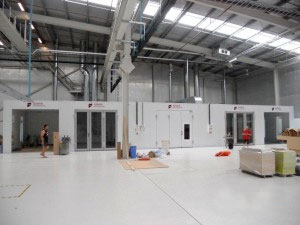 When a New Zealand Joinery Company were looking for a purpose built spray booth, oven and paint mixing room complex they took in to consideration many factors including, costs, quality and design.  The deciding factor of them placing their order with Junair ANZ (Australia and New Zealand) was the outstanding technology and build quality provided by Junair.
Junair Spraybooths have an ongoing research and development program and utilise the very latest spray booth technology.
Junair spray booths exemplifies the cutting edge in spray booth technology demonstrating reductions in booth cycle times by 35% and energy consumption by up to an impressive 70%.
The Junair range of spray booths delivers high performance, economy and reliability in use. Junair's highly experienced Design Team tailor client's requirements to suit individual dimensions and performance. The customer is delighted with the installation and the local territorial authority representative is extremely impressed with the finished result also.
Juniar Spray Booths Worldwide
Since Junair ANZ began trading, their spray booths have been recognised as high quality, highly specified and excellent value for money for all services whether it be from a single spray booth to a fully automated paint line. This is more evidence of the enhanced performance, energy saving and productive solutions which has increased profitability for many customers – both in the UK and elsewhere.
Another customer that has benefitted from Junair Spraybooths in that part of the world is Bowra Panel and Paint in Western Australia who received Junair's first installation in Oceania.
The installation included a Junair 5 series spray booth which also features patented energy saving technology, speed drives, fuel savers and QADs, as well as combined energy savings of up to an outstanding 70%.
For more information about all Junair spray booths don't hesitate to browse through the rest of the website where you can find out more about Junair through service descriptions and case studies.
You can also fill in the contact form and we'll get back to you as soon as we can.