To recognise National Apprenticeship Week (8th-14th February), we're going to shine a light on just why Junair Spraybooths utilises apprenticeship schemes to help grow the business. We're also going to introduce a new recruit…
Hiring an apprentice for Junair is a productive way to grow talent and develop a motivated and skilled workforce. Hiring apprentices from a young age also gives us the opportunity to adapt their skills according to the needs of our business.
Introducing Connor Hodkinson!
We have recently recruited a new apprentice Connor Hodkinson, who is 16 years old. Connor spends one day a week training as a sheet metalworker/fabricator at RTA in Rochdale and he's already proven himself as a great addition to the company. See below for a snap of Connor hard at work.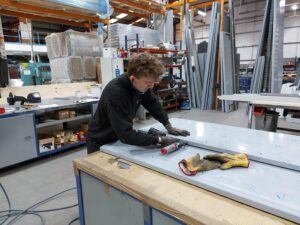 Apprenticeships offer benefits for everyone involved
Apprenticeships are an exciting option for both apprentice and employer. You can employ apprentices at different levels, from school leavers and university graduates, to people who want to further their careers or change career direction completely. This flexibility has meant that Junair is able to hire talented individuals from all walks of life, and with a variety of unique skills to offer just like Connor.
As an employer, you can get funding from the government to help pay for apprenticeship training which is another plus. Talking of the benefits of apprenticeship schemes for your business…
The benefits for your business
Hiring an apprentice is a productive and effective way to grow talent and develop a motivated, skilled and qualified workforce. In fact, through the years we have had apprentices work their up through the ranks to move on to our Design department also completing HNC in engineering.
86% of employers said apprenticeships helped them develop skills relevant to their organisation
78% of employers said apprenticeships helped them improve productivity
74% of employers said apprenticeships helped them improve the quality of their product or service
Here's to celebrating apprenticeships! Historically, we have always hired young talented apprentices and we've seen many of them take on exciting opportunities in more senior roles within Junair. For the latest news from within the Junair Spraybooths community, click here.