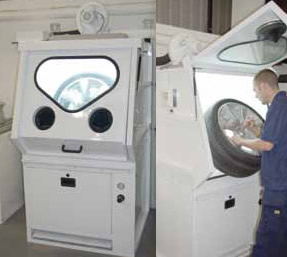 Time and space is of the essence.  This is especially the case in busy body shops.  If you are the owner of a body shop you will know what we mean when we say that time is money, and where we can save time we can save expense and optimise profit.  With an alloy wheel refurbishment kit you can carry out wheel refurbishment projects in record time with equipment designed to be reliable and compact.
Alloy Wheel Refurbishment Kit Offer a Painless Repair Process
From start to finish, alloy wheel refurbishment equipment from Junair Spraybooths aims to let you get wheels prepped and sprayed quickly, and to the highest standard.
Stage One: Preparation
The wheel blast unit will prepare your wheels prior to painting. This unit is completely enclosed and includes a dust capture and ventilation system ensuring the users safety and results in mess free preparation before you wash your wheel. Learn more about our wheel blast equipment.
Stage Two: Cleaning
The WheelWasher equipment is fully enclosed and it just requires compressed air and electricity. Using plastic granules and cold water, this unit efficiently and safely washes your wheels ready for sanding. The WheelWasher can be installed anywhere in the bodyshop.
Stage Three: Painting
Utilises the WheelSmart, which is a mobile painting facility that allows you to paint your wheel without the need to take up spray booth time, and can accommodate all car wheel sizes. Find out the details of our latest smart repair equipment.
Stage Four: Paint Curing
The purpose built WheelBake is a convection oven designed to cure painted primer, base and top coats and to save time allows you to cure two wheels at once. Improve workshop efficiency with the Alloy WheelBake.
All the spray booth equipment in Junair Spraybooth's alloy wheel refurbishment kit is designed with ease of use in mind and is guaranteed to save you time and increase revenue. Find out more about our wide range of high quality alloy wheel repair equipment.
How do you clean oxidized aluminium wheels?
You can remove the oxidation and pitting from aluminium wheels by hand by using soapy water and sandpaper, however it is highly recommended that you use specialist equipment to complete the process. Junair's alloy wheel refurbishment kit equipment is ideal for refurbishing alloy wheels, and is always guaranteed to deliver the best results.
Request a Call Back
If you are interested in any equipment from Junair Spraybooth's alloy wheel refurbishment kit then you can contact us on +44 (0) 1706 363555.
Alternatively a member of our sales team will get back to you when you fill out the contact form.