Fix Auto are an international franchise group of 420 bodyshops with a well established reputation respected by many insurers and renowned for quality and customer service throughout the industry.
Daryll Cain, owner of Fix Auto Plymouth recently acquired a second site in Paignton, Devon, with the intention to develop a 'Fix & Go' express facility, capable of repairing damaged vehicles in under two days.
Junair 1 Series Spraybooth
With workshop space at a premium and layout critical to the delivery of a fast repair turnaround, Daryll and his team opted for a 7m long Junair 1 series spraybooth, featuring a 3-leaf fully glazed door set, allowing optimum use of space within the bodyshop.
The Junair 1 series spraybooth is operated with an Isystem PLC touch screen control system. The spraybooth's preprogramed bake cycles ensure that jobs are not under- or over-cured, thereby saving time, energy and delivering consistently superb results.  Operators simply select from a list of coatings and the PLC automatically runs the appropriate cure profile.
A double-skinned insulated paint mixing room was installed and finished in white to complement the spraybooth, ensuring the bodyshop was aesthetically pleasing. Cross-flow ventilation is provided with filtered air input, keeping the room free from contaminants.
A stainless steel ventilated mixing bench is connected to the paint mixing room's ventilation system capturing the harmful fumes at source to provide the mixing operatives with a highly efficient fume control system.
Energy saving packages from Junair
Fix Auto Plymouth is committed to an environmentally acceptable way of working and with this in mind chose a comprehensive Junair energy saving package. The 1 Series spraybooth was fitted with Junair patented QADs, variable speed drives, fuel save mode and LED lighting.
Junair QADs speed up process times by up to 35%. The filtered and heated air creates the ideal environment for the fast controlled flash off of waterborne base coats and the rapid through curing of low VOC top coats.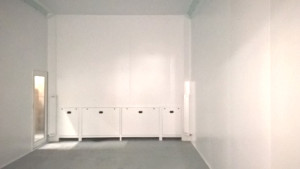 Junairs unique variable speed drives vary the airflow volume to suit the process. Reducing airflow through the cabin means lower fuel and electricity costs. 100% airflow is not required when the booth is standing idle or when it is being loaded and unloaded.
Most of the energy used by a spraybooth goes on heating up the external air to meet the required condition inside the cabin. Automatic Fuel saver mode automatically changes the air handling plant from full fresh air intake to recirculation during idle and flash off modes, substantially reducing the air heating costs.
By using QADs, variable speed drives and fuel saver mode in combination, Fix Auto Plymouth can expect to reduce their energy costs by up to 70%.
Grahame Kitchin, Sales Director, Junair Spraybooths commented: "We are very pleased to work with Daryll and Fix Auto Plymouth for their new site. Space is at a premium here so speed of process for the new booth was paramount. By fitting QADS with Fuel saver and variable speed drives, they can process a vehicle in through the booth in under an hour enhancing production whilst saving money. This maximises the site throughput and ensures optimum efficiency."
Daryll Cain, owner of Fix Auto Plymouth, commented: "From the outset Junair were the front runners, everything they promised came in either on or ahead of schedule, and I am extremely pleased with the results. Having a Junair spraybooth as part of our Fix & Go facility allows us to turn vehicles around within a 48 hour timescale, something that our customers are really seeing the benefit of."
Contact Junair Spraybooths
For more information on the Junair range of products contact the team on 01706 363 555 or email sales@junair.co.uk. We are a leading UK spraybooth and paint finishing manufacturer and are dedicated to providing a high-quality, professional service.