North East Scotland College (NESCOL), the largest provider of vocational education and training in the North East of Scotland, recently commissioned Junair Spraybooths to install a brand new training facility for their apprentices. The project was initially instigated to bring the college up to date with modern technologies and to ensure that students are trained in the best possible environment.
Darren Robertson, Body and Paint Lecturer, NESCOL commented "I initially approached Junair as I'd recently visited a training facility they had previously installed elsewhere. My position at NESCOL also requires me to visit numerous body shops and the Junair booths are definitely a popular choice."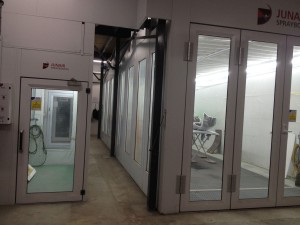 Aberdeen's apprentices are now privy to a 9m long Junair 5 series spraybooth, complete with 4 leaf fully glazed doors. An EVAC gridded floor ensures optimum downdraught airflow within the spray booth, preventing contamination from overspray and speeding up the curing process. The spraybooth is controlled by a Junair isystem control panel, enabling students to select from a variety of preprogramed cycles.  A fully glazed viewing corridor enables students to watch the process from start to finish, also ensuring that lecturers can keep a watchful eye over students working within the spraybooth.
Energy Efficiency
NESCOL's 5 series includes several energy efficient features such as Fuel saver mode and variable speed drives. The integrated LED lights not only provide energy efficient lighting but also ensure a natural even light throughout the spraybooth improving vision for the best possible finish. Junair patented QADs provide an energy efficient drying process which, by means of auxiliary air movement, significantly decrease the drying time within the booth.
In addition to the high spec 5 series the apprentices also have use of 2 adjoining panel spraybooth ovens which share an air handling plant, each of which comes with viewing panels. A paint mixing room completes the training facility again with a viewing window to ensure maximum learning potential.
Jason Douglas, Sales Director Junair Spraybooths commented "The layout of this project was slightly different to the norm as not only did we have to ensure viewing panels were accessible along the lengths of the 3 spraybooths but the floor space within the workshop was also limited. We came up with a great solution to this and the result is a training facility to be proud of!"
Darren commented further, "The project has been a massive benefit to the students, I've seen a huge increase in the throughput of work within class times, due to quicker drying times. The design of the viewing panel allows for much better viewing of the students at work. I'm very happy with the way the project was handled from design to installation, very professional. I can't praise the installation team enough. I'd have no hesitation in recommending Junair."
Alternatively you can view the full range of spraybooth equipment and accessories and services that Junair Spraybooths offer by visiting our home page.