AW Repair Group operates an award winning network of bodyshops covering East Midlands, Nottinghamshire, South Yorkshire and Derbyshire. AW have recently invested in upgrading the paint finishing equipment across their sites. The Beeston, Nottingham site is the most recent addition to the AW network. It opened in January 2017 and was the latest to receive new equipment, the 13,000 sq ft bodyshop has been equipped with a unique, time efficient layout.
Innovative installations from Junair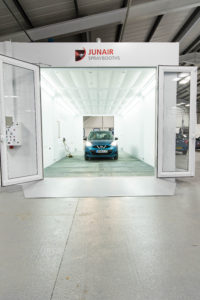 Grahame Kitchin, Sales Director at Junair Spraybooths commented "Andrew Walsh is a very forward thinking client, following our successful installations at Newark, Markham Vale and Denaby we improved on the concept for this new site in Nottingham. Denaby has a double length drive through spray booth which processes between 10 and 14 jobs per day. In order to improve on this even further, the cars are loaded by a skates and rail systems perpendicular to the front of the booth, creating a masking and QC area from which the car is loaded into the spraybooth. This process typically saves 12- 15 minutes per job."
Andrew Walsh, Managing Director AW Repair Group commented "Naturally for any business we strive to reduce costs and reduce the time scales whilst improving quality. This new process significantly improves our key to key times, the energy efficiency and increase in number of jobs we can process through the booth reduce our overall spray booth operating costs by 65% and the quality of finish that we achieve with a full downdraught Junair booth is second to none."
Safe, advanced and energy efficient technology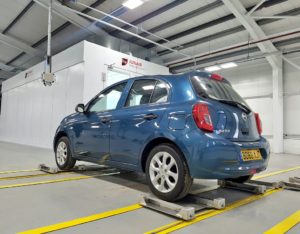 The double length spraybooth can easily accommodate 2 vehicles or 1 vehicle and off-car panels. Due to the booth being fully downdraught, the vehicles and panels can be painted in different colours, the downdraught draws the paint overspray downwards eliminating the risk of cross contamination of the paint jobs.
AW wanted the quality of a downdraught spraybooth but without the hassle of having to excavate the existing bodyshop floor which is why they opted for the Junair LEVAC floor. No excavation is required, it sits on top of the existing floor and a small 140mm ramp is used to access the booth.
In order to fully take advantage of the energy saving options on offer AW opted for LED lighting throughout, Fuel Saver Mode, Variable speed drive and Junair QADs auxiliary drying system.
Their new 4m long paint mixing room comes with an anti-slip gridded floor set in steel trays, allowing any spills to be contained, ensuring a safe non slip environment for the workforce.
To improve efficiencies in all aspects of repair, AW have included a number of mid-rise scissor lifts, a new Blackhawk jig and measuring system. This, in conjunction with the new spray booths has created an efficient and productive bodyshop, allowing AW to increase the throughput with fewer technicians. This new way of working is in-keeping with today's modern day demands.
 Get in touch today
Junair Spraybooths are the UK's leading supplier of paint spray booths and paint finishing equipment. For more information about Junair, or to book a site visit contact the team on 01706 363 555 or email sales@junair.co.uk.