On the 11th and 12th November 2014 Junair Spraybooths exhibited at the very popular Advanced Engineering Group of Events in the National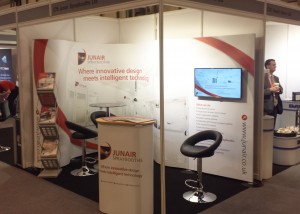 Exhibition Centre (NEC), Birmingham. The Advanced Engineering show is an annual event and is described as a 2 day festival of technology. This event is in reality 5 events in one combining Aero Engineering, Composites Engineering, Automotive Engineering, Auto Electronics and Performance Metals.
The Ideal Opportunity to Showcase Our Spray Booth Solutions
Visitors to this year's event were in excess of 14,000 creating the perfect opportunity to exhibit our leading spray booth and paint finishing equipment. Daniel Cookson, the Marketing Manager of Junair Spraybooths comments "The Advanced Engineering Show is a key event for Junair Spraybooths. Over the past few years Junair have experienced large growth within the Industrial and Aerospace sectors and therefore the Advanced Engineering show provides the ideal platform for us to showcase our recent installations, meet with current customers and interact with any interested visitors."
Our Spray Booth Equipment Generates a High Volume of Visitors
After the success of the show, Daniel Cookson added "Every year The Advanced Engineering Show is always busy, and this year was no exception. Our stand was exceptionally busy over the two days with a high number of new enquiries wanting to discuss our spray booth equipment and paint finishing products and services. The show was once again a real success for Junair Spraybooths. Plans are already underway to secure a prime stand position for the 2015 show."
Contact the Junair Spraybooths Team
The Junair Spraybooths team are exceptionally proud about the work that we do and we relish the opportunity to be able to showcase our state of the art spray booth equipment. If you are interested in finding out more about upcoming shows or you would like to discuss our spray booth equipment and solutions you can do so by contacting us on directly on +44(0)1706 363555 or alternatively email your query via the contact form provided.