Junair Spraybooths Participate in Show
Junair Spraybooths participated for the first time in the Composites Engineering show and are already planning to return.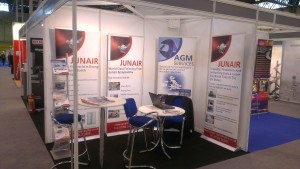 The show saw an overwhelming number of visitors and the team, who were busy promoting Industrial and Aerospace refinishing equipment, were kept incredibly busy on their stand.
Junair offer a comprehensive range of equipment including Dry Filter and Water Wash Spray Booths, Curing Ovens, Powder Coating and Pre Treatment Plant, Overhead and Floor Conveyor Systems, Robots and Automatic Fluid Systems and Sludge Removal Systems.
The show was the perfect showcase for our range which was very well received by visitors to the stand. Dedicated to innovation, our guests got a great insight into the world of Junair and how our solutions can work for their business.
Committed to creating products that enhance performance and productivity whilst saving energy and increasing profitability, we are thrilled that our range was met with such interest.
Synonymous with innovation and development, the Junair name has grown over the years and we are now renown for our quality products that are manufactured to the highest standards. We have pioneered some of most notable advances in spray booth technology and our products never fail to impress.
Manufactured and designed in the UK, we can tailor-make our products to suit any space or any requirement. Used within a range of different industries including aerospace, automotive, industrial and commercial sectors, Junair will continue to the lead the way with our innovative techniques and dedication to engineering.
To find out more about Junair Spraybooths or to discuss your requirements with a member of our team, call us on 01706 363 555 or fill in the form on our 'contact us' page.