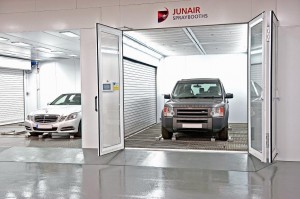 We understand that every Bodyshop is different both in terms of layout and type of work carried out, meaning there is not one solution that fits all. This is why we offer a consultative approach and bespoke manufacture for each installation to ensure that the spray booth equipment we provide is suitable for the individual needs of our customers. We offer a complete project management service which includes all the necessary building, electrical and mechanical services to ensure the installation is delivered on time, within budget and to the agreed specifications.
Unique Spray Booth Design That Offers Advantages
We offer a wide range of options that can be incorporated into a spray booth, these options all provide a great range of benefits including optimised production rate, energy efficiency and an increase in the quality of your work.
Options available for a spray booth include a fully extracted and balanced floor which provides better air movement within the spray booth. This floor can also be surface mounted so there is no excavation required and being only 140mm in height, only a small, unobtrusive ramp is required. Some Bodyshop designs work better with a side loading system where a vehicle is placed on skates and rails for ease of movement. This allows you to mask the vehicle and then simply push the car into the spray booth when ready, optimising your spray booth productivity. Another option for your spray booth which Junair have developed is LED lighting. Not only is the LED lighting excellent for ensuring a crisp and clear illumination within your spray booth, it is much more energy efficient offering up to 60% savings on energy costs.
An Extensive Range of Alloy Wheel Refurbishment Equipment
Wheel refurbishment equipment has advanced over recent years with more and more Bodyshops offering alloy wheel refurbishment as a standard service. Part of our product portfolio is an extensive range of alloy wheel repair equipment which is designed to complement our spray booths. This alloy wheel repair equipment has been developed to optimise your Bodyshop's productivity and efficiency allowing each stage of wheel refurbishment to be carried out efficiently and to the highest quality achievable. Browse the full range of alloy wheel repair equipment.
Maximise Your Space with Junair's SMART Repair Equipment
If space is in short supply, which is often the case in busy bodyshops, then it is imperative that your spray booth equipment utilises this space efficiently. Our range of SMART repair equipment was launched after analysing customer feedback. The feedback highlighted there was a requirement for equipment capable of carrying out small repair work whilst maximising available space. An ideal solution for those with limited space or those that want to free up valuable production space in their spray booth, check out Junair's SMART repair equipment.
Contacting the Junair Spraybooths Team
If you are interested in any of our equipment or you would like further information please contact our friendly team using the contact form featured on our website.
Alternatively you can reach us by calling +44(0)1706 363 555 or emailing sales@junair.co.uk.
Find out more about the industry leading manufacturer of spraybooths.